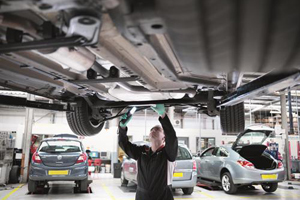 VEHICLE service and MOT outlets are at increased risk of losing business if they fail to respond rapidly to online aftersales enquiries, new research has found.
Commissioned by GForces, the research found that after submitting an enquiry online, almost a quarter (24 per cent) of the 2,000 survey respondents said they would only be willing to wait for up to two hours for an answer before they took their business elsewhere. A further 18 per cent said they would wait between two and four hours. Only 16 per cent said they would be willing to wait more than 24 hours.
Men are less patient than women – 28 per cent of men say they would only wait up to two hours, compared to 20 per cent of women. Those in the north east are most impatient, with 32 per cent saying they will take their business elsewhere if they do not receive a response within two hours, contrasting with just 19 per cent saying the same in Northern Ireland. Those in Northern Ireland are also the group most willing to wait as long as 48 hours for a response, albeit still a small percentage (16 per cent).

In terms of age of respondent, least patient are those over 55 (30 per cent only willing to wait up to two hours), most patient are those under 24 years (13 per cent).
Tim Smith, group strategy director at GForces, said: 'Expectations are extremely high for rapid response rates to online enquiries, and with so much competition in the aftersales sector, motor retailers clearly can't afford to keep their customers and prospects waiting.'
The survey also revealed the factors influencing motorists' choice of aftersales outlet. Price proved to be the most important factor, with a third of respondents identifying it as the biggest single issue governing their choice of outlet to carry out service and MOT work on their car. Those aged 25-34 are the most price-sensitive (it is the most important factor for 44 per cent of them).
'Identifying the preferences of consumers is invaluable for delivering the best possible customer service,' added Smith. 'For example, we have also discovered that the morning is the most popular time for consumers to make contact to schedule a service or MOT, favoured by over half [52 per cent] of respondents to our survey. Mapping patterns like this helps dealers better prepare for peak periods in inbound enquiries and avoid business going elsewhere.'

Regarding favoured times for making an aftersales enquiry, there are significant differences for different age groups. Sixty per cent of those aged 45 to 54, and 75 per cent of those over 55 years prefer making a booking in the morning, whereas this is just 33 per cent for those under 24. Lunchtime is the period favoured most by the under 24s (34 per cent).