AUTO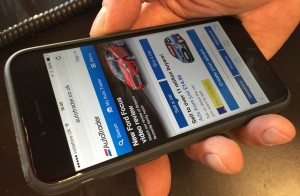 Trader has announced its intention to float on the London Stock Exchange.
The company will be offering shares to the public with the aim of being admitted to the Stock Market next month and said it was making the move at 'the ideal time'.
Auto Trader is a key player in the vehicle-buying process in the UK and operates the UK's largest digital automotive marketplace.

The company is 100 per cent digital, since transitioning from print (the Auto Trader magazine) to its website (autotrader.co.uk), and is solely focused on the UK and Ireland.
Auto Trader holds a strong position in the market, with more than 90 per cent brand awareness in the UK, around 80 per cent of UK retailer forecourts advertising via the website and about 60 per cent of UK used car transactions involving cars listed on autotrader.co.uk.
The Group can look back on a period of growth, too. In the 52-week period to March 30, 2014, Auto Trader generated revenues of £237.7 million.
And there was revenue growth of around eight per cent over the 39-week period to December 28, 2014, compared to the 39-week period ended December 29, 2013. Margins expanded to 61 per cent.

Auto Trader says its move into the Stock Market will raise the profile of the Group and provide an 'appropriate capital structure' for future growth.
Future generations
Ed Williams, chairman of Auto Trader said: 'Auto Trader has been the place people think of to buy or sell their next car for generations.
'As one of a handful of long-standing UK companies to have become a household name in the digital world, now seems the ideal time to join the UK stock market. This represents another step in ensuring that Auto Trader can serve future generations of vehicle buyers and sellers.'
Trevor Mather, chief executive of Auto Trader, said: 'Auto Trader is known across the UK & Ireland as the digital marketplace for buying and selling vehicles.
'I am both confident and hugely enthusiastic about our future, as we embark on the next stage of our growth as a public company.'
MORE: Suzuki Celerios being returned to customers after safety recall
MORE: Euro NCAP awards four stars to Audi TT