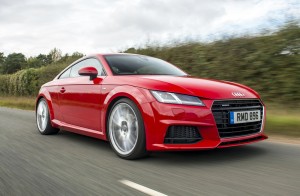 THE new Audi TT has been awarded a four-star overall safety rating by Euro NCAP.
The third-generation TT went on sale last year, surprisingly without a safety rating for the European market.
Following last year's controversy involving the TV programme Watchdog, Euro NCAP have now put the car to the test.

An investigation by the programme in May revealed Audi dealers making false claims about the safety ratings given to cars in the manufacturer's range. The most recent test involving a TT was said to have been before 2009.
In the test that has just been carried out, the Audi TT achieved four stars overall, missing out on a fifth due to the lack of the latest advanced technologies such as autonomous emergency braking. This important technology is becoming more common and is already available on many other models in the Audi range.
The Audi TT is the first car tested by Euro NCAP under the more stringent 2015 rating rules that use new and updated test protocols and crash test dummies.
A new full-width rigid barrier frontal test has been added to complement the current frontal offset deformable test. The full-width test specifies, for the first time in any European crash test, that the 'occupants' should be the size of a small female driver and rear seat passenger.

Michiel van Ratingen, Euro NCAP secretary general said: 'The scores obtained in the new full-width impact test will provide further information on how safe occupants of different stature really are and will provide an incentive to improve the restraint systems in cars.'
MORE: Toyota team swaps cars for bikes in aid of Comic Relief
MORE: We're after a 20 per cent sales increase this year, say Mazda
MORE: Vines enters fifth two-year contract with Accident Exchange