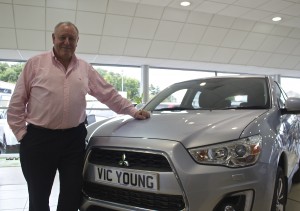 AN AWARD-WINNING company in the north-east has become the latest car dealership to join the expanding Mitsubishi network.
Vic Young Mitsubishi has opened its doors at the company's site in Newcastle Road, South Shields.
South Shields-born and bred, Vic has more than 40 years' experience in the motor trade and he has been looking forward to launching with Mitsubishi at his family-run dealership.

He said: 'This is an exciting step for us. We pride ourselves on our exceptionally high levels of customer retention and believe that the level of service we provide is what sets us apart. We have already had a lot of interest in the Mitsubishi range and we are confident this will be a successful partnership.'
Vic Young (South Shields) is already a well-renowned business, with a portfolio that includes Vic Young Mobility, a specialist Motability division that supplies cars, adaptations and wheelchair-accessible vehicles; and Northern Truck Bodies, which carries out vehicle conversions.
Vic said: 'We pride ourselves on looking after our customers. We see ourselves as part of the community and our values are a perfect match with those of Mitsubishi.'
His career in the motor trade began at the age of 15 as an apprentice motor mechanic. Today his company employs 69 people and it continues to grow. A new MOT centre has just opened and the dealership is being refurbished.

The dealership, which supports a number of charities, including St Clare's Hospice South Shields and Grace House Children's Hospice in Sunderland, is opening with Mitsubishi at an exciting time.
It was the fastest-growing mainstream car brand last year and sales in 2014 are equally impressive.
Lance Bradley, Managing Director for Mitsubishi Motors in the UK, said: 'We are delighted to welcome Vic Young to the Mitsubishi family.'