Well-known Lotus dealer Bell & Colvill has opened a brand new McLaren aftersales facility in Guildford, Surrey.
As 'McLaren Approved Guildford', the new facility becomes the first ever 'Approved' McLaren centre in the UK.
It will allow Bell & Colvill to sell used vehicles, service, maintain, supply replacement parts and carry out any warranty repairs.

The new facility, located in the Slyfield Industrial Park on Westfield Road, Guildford, will service not only McLarens, but also Lotuses, Subarus and Morgans – three brands the firm holds new car franchises for.
The modern 12-bay workshop is fitted with the latest test equipment including EV charging posts to accommodate not just the latest vehicle technology, but also cater for future developments.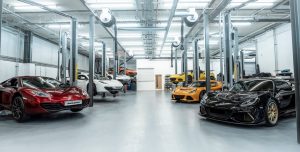 Andy Elliman, Bell & Colvill chairman, said: 'The automotive industry is at a pivotal point, going through an enormous change, not only with the introduction of electric vehicles but also in transforming the way we sell vehicles to our customers.
'I firmly believe it is the expertise we have in our technical, sales and reception team that will make all the difference now and in the future.

'Customers always prefer to know that they are being looked after by the best and, by continuing to invest in our staff and our facilities, we know we can continue to provide a level of service that matches the highest standards our customers have come to expect from Bell & Colvill.'
He added: 'And, this applies not only to the modern cars we care for. Our history shows our huge passion, knowledge and expertise in classic Lotus cars. We are the 'go to experts' for maintaining and servicing across the Lotus range; we have the capability to demonstrate we are the best in the world, and this will continue to be the case.'
Bell & Colvill celebrates 50 years of business in 2020, and is the world's longest-serving Lotus dealer.
The original West Horsley premises in Surrey, which have been a Bell & Colvill site since 1970, will remain in place as a showroom for its Lotus, Subaru and Morgan brands.