BRISTOL Street Motors has invested £600,000 in the relocation and major refurbishment of its Hyundai dealership in Exeter.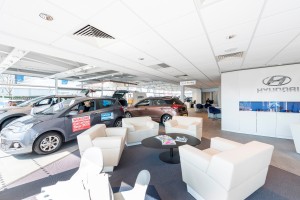 The redevelopment is part of a continued investment by Bristol Street Motors, part of Vertu Motors, across its network of dealerships nationwide.
The dealership, previously located on Marsh Barton Road in the Marsh Barton Trading Estate, has moved close to a new site on Trusham Road to accommodate its growing team.

Bristol Street Motors invested £600,000 in the transformation of the site into a state-of-the-art dealership with an expansive showroom and ground and first floor offices with corporate furniture and new lighting to provide a comfortable customer experience.
The development also includes the refurbishment of the workshop with new ramps and equipment to enable the technicians to continue providing a high level of service.
The investment has also enabled the group to introduce a brand new Van Centre adjacent to the site in a new showroom, complete with offices, new signage and a refreshed car park layout to accommodate the dealership's growing commercial customer base.
The refurbishment follows the acquisition of the site in 2015 following the relocation of the Volkswagen business that was previously on the site.

Oliver Follows, branch manager at Bristol Street Motors Hyundai Exeter, said: 'Since moving into the new site, we have received an overwhelming response from both new and returning customers.
'The new showroom allows us to showcase our wide range of Hyundai vehicles, while the offices on the ground and first floor ensure a confidential sales experience for our customers and an enhanced working experience for colleagues.'
He added: 'I am also delighted with the new Van Centre, which is a one-stop shop for anyone interested in finding out more about our wide range of commercial vehicles.'
MORE: Rare Italian supercars head to H.R Owen showrooms
MORE: Almost 250,000 Vauxhall Zafiras in new fire risk recall
MORE: First quarter goes well for Lookers with profits ahead of last year
On SuperUnleaded.com: Nissan Micra Cup Race Goes Downhill Quickly