Arnold Clark's achievement of raking in more than £1m profit per DAY has been labelled as 'simply phenomenal' by the compilers of the Car Dealer Top 100.
This year the list – sponsored by Heycar – was produced by experts at accountancy firm UHY Hacker Young who looked at hundreds of accounts to produce the league table of the most profitable car dealers.
Ranked using EBITDA profit, the list named Arnold Clark as the most profitable dealer for the fourth year running with £383.8m of earnings.

Britain's most profitable car dealers saw their combined earnings rise to £2.78bn in 2022 on revenues that rose £11bn to a staggering £73.7bn. The Car Dealer Top 100 looks at accounts for 2022.
Ian McMahon, partner at UHY Hacker Young, spoke to Car Dealer in a special video (above) about the list. We also canvassed the opinion of Karen Hilton, CEO of sponsors Heycar, for this Q&A below.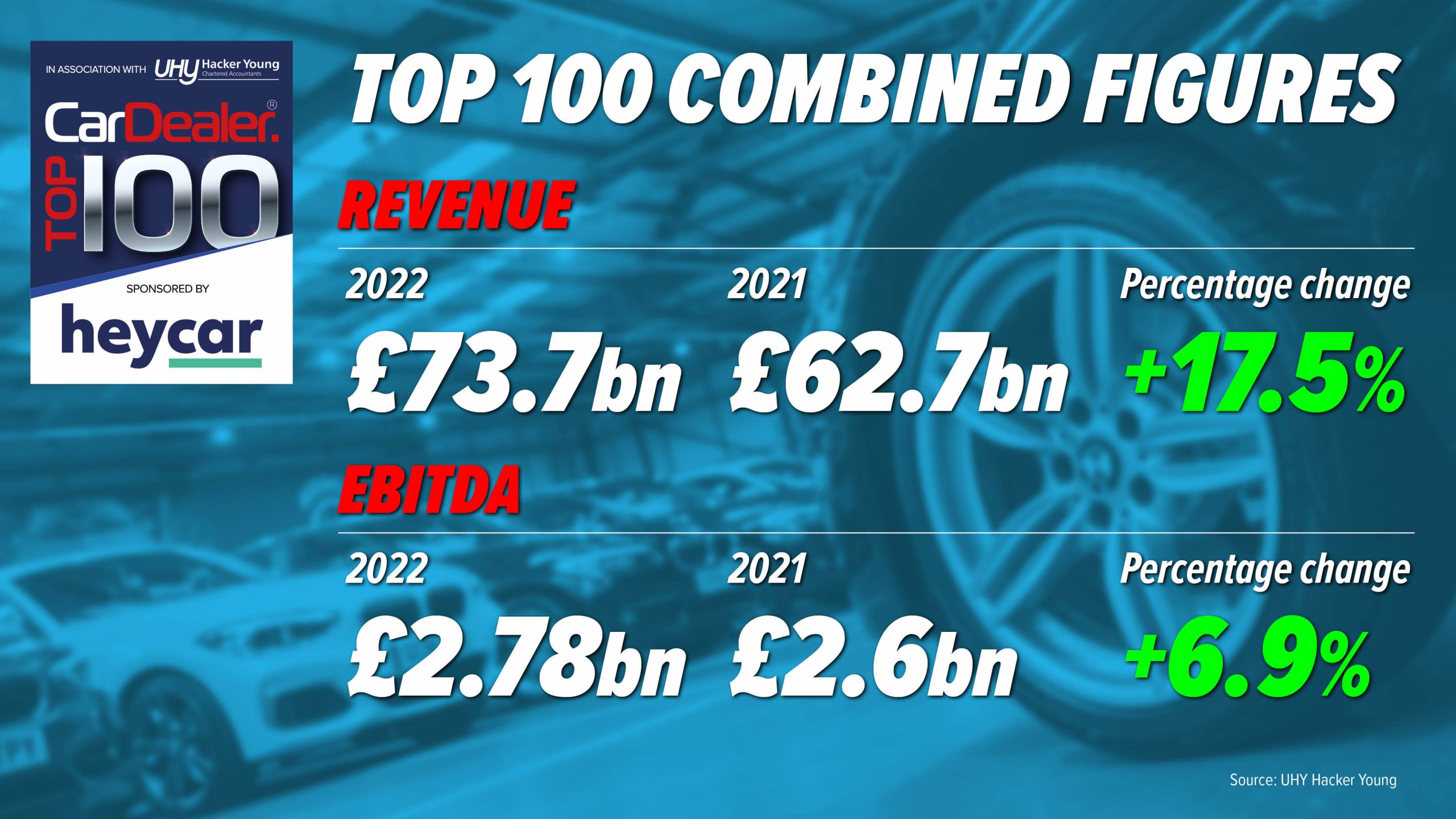 What has been the overriding thing driving profits this year?
McMahon: It's been a fascinating exercise to get into. You seldom have the opportunity to stand back and really review these accounts in such detail. During 2022, we saw used vehicle residuals remain solid.
And perhaps these dealers have taken some of that learnings from the Covid years and stretched it out. It's been a considerable year.
Why do we use EBITDA to rank these businesses?
McMahon: So earnings before depreciation, amortisation and interest (EBITDA) is usually a good cash generative indicator for businesses. It bases the list upon a business' ability to trade and turn that trade into profit, which turns into cash. EBITDA is a good measure of that.
Arnold Clark, once again, is number one, making more than £1m profit a day – why are they so successful? 
McMahon: I've got no doubt that the level of profitability over the years has really allowed them to reinvest into initiatives. They do have a strong market area presence and you can definitely see that drives an ability to invest in emerging technologies, some of which are customer centric, others are online initiatives. A million pound profit a day is phenomenal, isn't it?
Hilton: The automotive retailers in the Top 10 share a number of characteristics that contribute to their success. They are nearly all large, multi-franchise dealerships with great levels of vehicle choice that have high levels of consumer brand awareness and trust. 

They also combine significant real-world presence, making them a convenient choice for buyers who want to purchase in person, alongside great online experiences. But when you read a number of their quarterly or annual reports, the other recurring theme is their investment in customer service.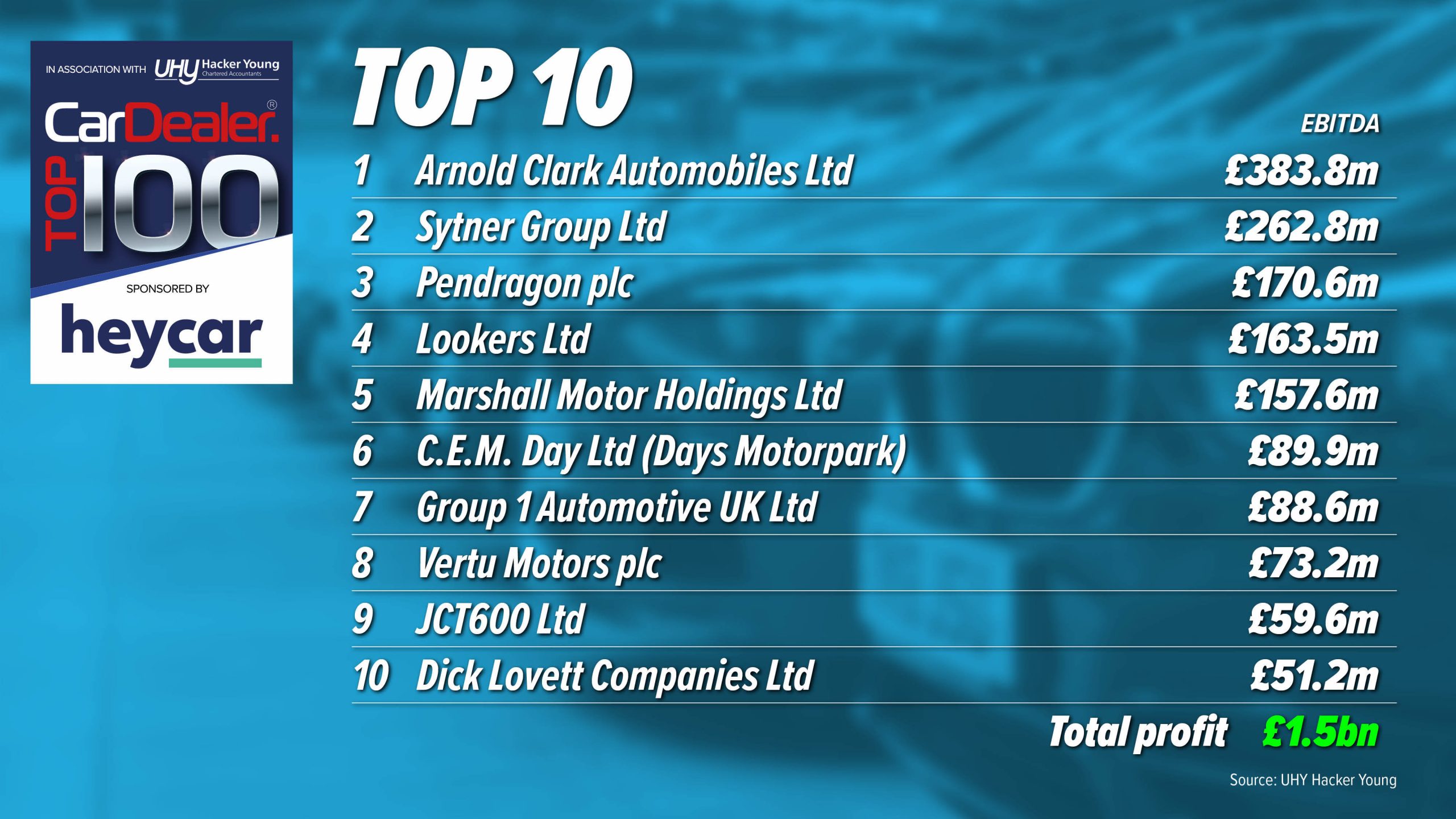 There are lots of movers in our Top 10, but the biggest faller is Vertu, down three places – why is that? 
McMahon: The Top 10 is pretty much as we would expect. Vertu is a business that continues to evolve and make acquisitions. Although a lot of the acquisitions are profit positive from the get go, there's a little bit of expansion cost that goes with it.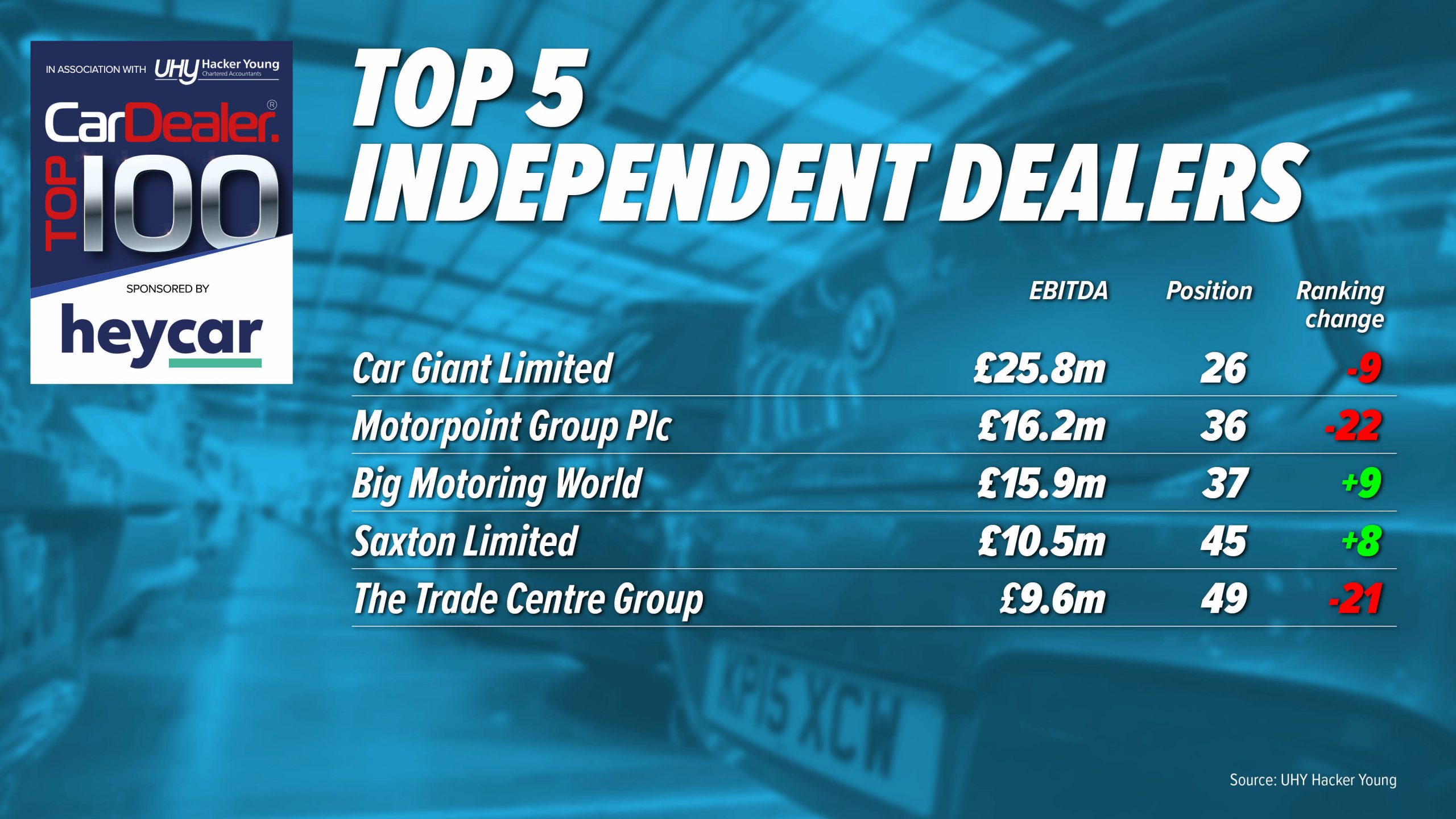 When it comes to used car specialists – some had a torrid time in 2022, why was that? 
McMahon: The highest ranked used car specialist is Car Giant, ranked at 26. If you delve into their numbers, they have realised a gain on some investment properties in the year.
The others, like Trade Centre Group and Motorpoint have dropped as they've got themselves onto a bit of treadmill and might have to be paying a little too much for stock to keep that up. And there has been a lot more movement with used car prices, which hasn't helped.
We've had some big risers this year – what were the highlights for you? 
McMahon: Inchcape has risen considerably – up 103 places – but that's largely down to EBITDA as they had an exceptional impairment in their results the year prior. Dick Lovett also rose up the list to take a place in the Top 10 which was impressive.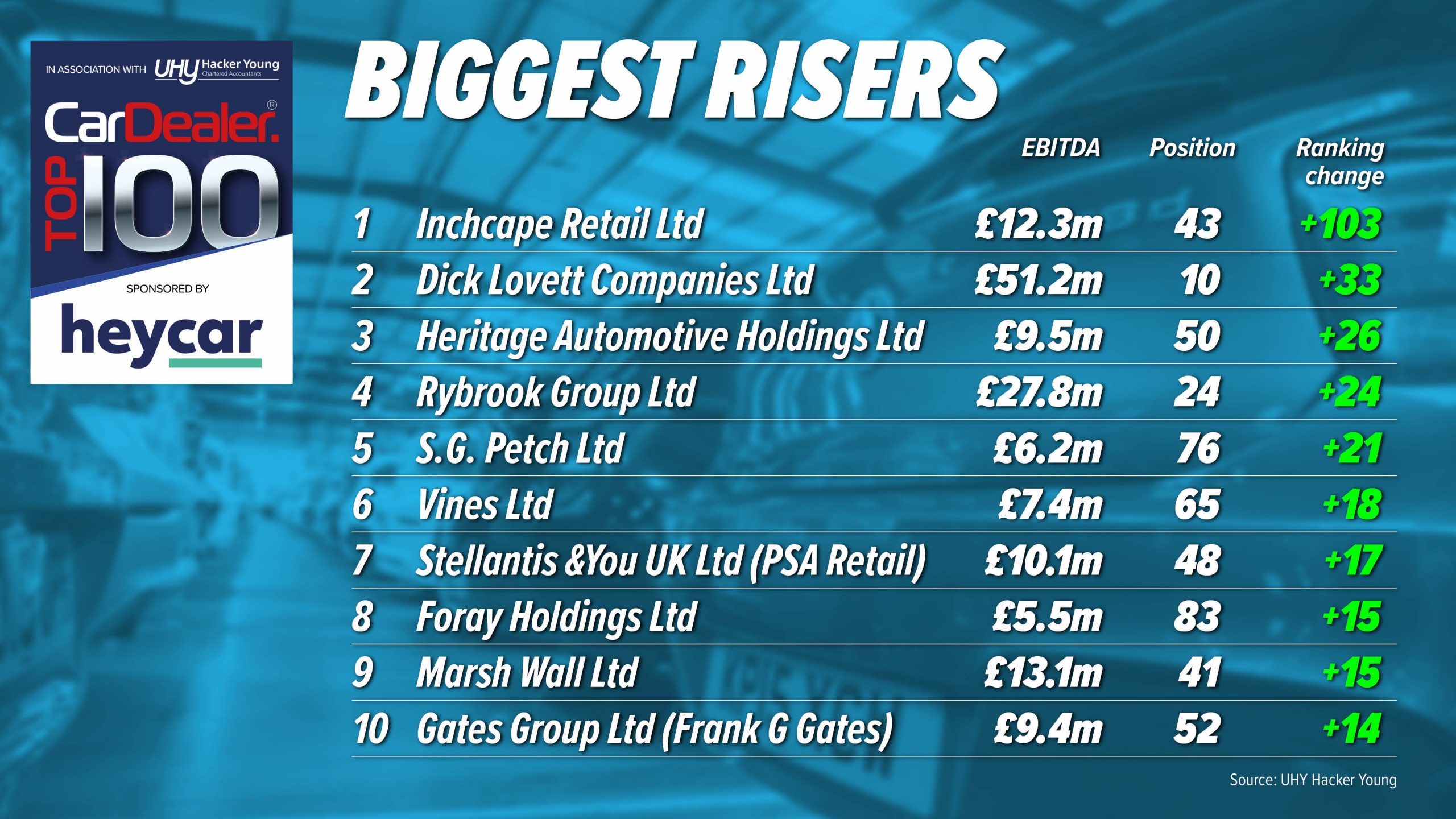 Hilton: No surprises as such, but again when you look at the quarterly statements made by some of the biggest risers, the references to customer service and their 'people culture' can be seen time and again.
We know that many of them put great amounts of time and money into their training and management academies, rightly believing that this continued investment in their people helps to both deliver a better 'front of house' experience and retain their people longer.
This combination brings with it the twin benefits of high levels of product and operational knowledge being retained within the business and helping reduce the costs and distraction associated with recruiting and onboarding. 
The Top 10 dealers accounted for 54% of the entire profit from the whole Top 100 – the big dealers just seem to keep getting bigger, don't they? 
McMahon: Yes, it certainly seems that way. It's a phenomenal statistic to be able to identify just what influence that they have on that Top 100. 
And we've seen a lot of M&A activity this year with the likes of Lookers and Pendragon – will this continue? 
McMahon: Definitely. It never ceases to amaze us the conversations that we're having with our clients, as well as the wider networks. Certainly the opportunity for some of their larger guys to reshape in line with their manufacturer business plans is always there.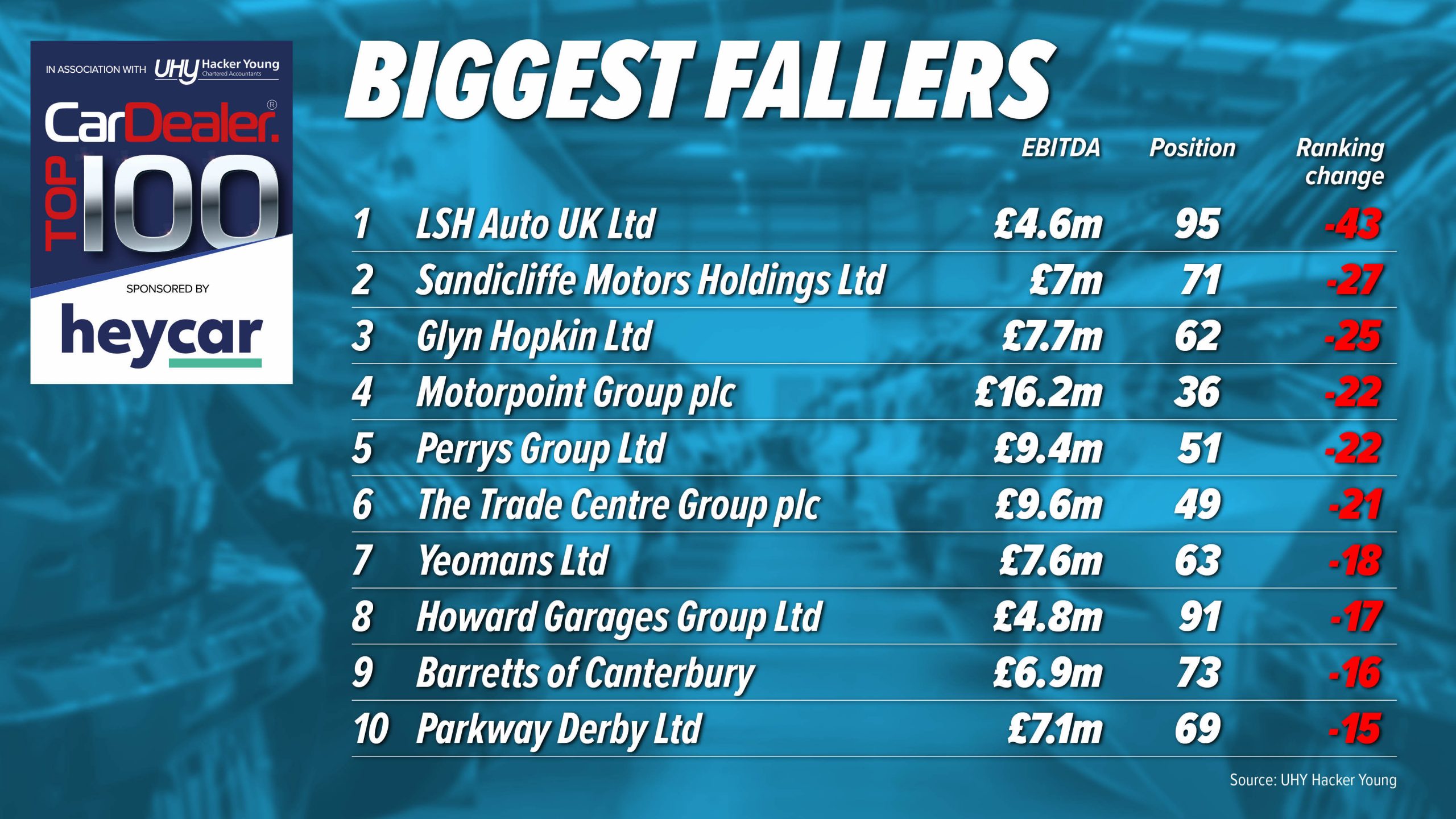 What are your thoughts on how tough the used car market has been – and will be for these top 100 dealers going forward?
Hilton: That potent mix of pent-up, post-pandemic demand combined with new car supply shortage that lead to the 7.5m used car transactions in 2021 has certainly given way to a much tougher set of macro-environment conditions over the last 18 months. 
Rising inflation has put pressure on household income and led to interest rate increases, making borrowing more expensive for consumers – and dealers themselves have had to absorb the higher costs of goods, services and wages. 
While most experts expect the effect of the increased new car supply to soften prices rather than force anything more drastic, the scale of the decrease will depend on a fine balance being achieved by OEMs seeking to drive volume without over-supplying the UK market.