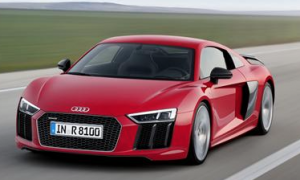 BE careful if you're caught speeding and instead of holding up your hands, saying sorry and admitting everything, you decide to challenge it in court…
David Pickup, 45, was clocked doing 101mph in his Audi R8 on the A55 at Lloc in Flintshire in April 2014.
Flintshire Magistrates' Court heard an in-car police camera caught him and Pickup, from Wilmslow, Cheshire, who has a holiday home in Abersoch, Gwynedd, was convicted of speeding.

But he denied breaking the 70mph speed limit and his defence questioned the accuracy of the in-car police speed camera.
So the prosecution hired an expert who rented an airfield and an Audi R8 to carry out tests, and the results were presented to the court.
As a result, Pickup was fined £675 and given six points on his licence for the speeding offence… and on top of that, he was ordered to pay the full prosecution costs, which included picking up the bill for the testing procedure, of £10,384.
MORE: Manufacturers recall cars in airbag horror

MORE: Rockar Hyundai attracts 100,000 customers in six months
MORE: Come to #CDX15 and win VIP tickets to this year's Silverstone Grand Prix!
MORE: Get your FREE tickets to the event
On superunleaded.com – We're Giving Away The Most Disgusting Peugeot The World Has Ever Seen