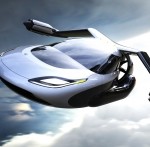 DEALERSHIPS are already accustomed to selling new cars, used cars, electric cars, hybrid cars…
Well, soon they could be selling flying cars.
In something that looks like it's from the old cartoon the Jetsons (remember that?), Terrafugia has released a video of a car driving out of a garage, and then taking off and landing at a small airstrip nearby.

The revolutionary vehicle, which they call the TF-X, is between eight and 12 years away from production, says the company, and is inviting anyone interested – and rich enough – to order theirs now.
Terrafugia says the vehicle will cruise at 200mph and have a 500-mile flight range, and says its aim is to produce something which will provide 'true door-to-door transportation'.
It will have room for the driver – or should they be called a pilot? – and three passengers. 
A one-tenth scale model will be tested at the Wright Brothers wind tunnel at the Massachusetts Institute of Technology (MIT).

It's not the first time Terrafugia has produced a flying car. Earlier this year, it unveiled the Transition, which has space for two passengers, which it hopes to put on sale before the end of the year. It will cost less than £200,000 and owners would need a pilot and a driver's licence to operate the road-legal airplane, in addition to 20 hours of flying time. It will have a flying range of about 500 miles.
This is the TF-X in action….
.. and here's a video of the Transition.
MORE: Used-car dealership sells a record 827 vehicles in one month
MORE: Baggott: Why a lost parrot made me think of the farce of pre-registered vehicles
MORE: Clocking risk would increase in MoT shake-up, says HPI
MORE: June's fastest-selling cars revealed by Auto Trader
On superunleaded.com – Watch Biker's Scary Near Miss As Lorry Crushes Ducati