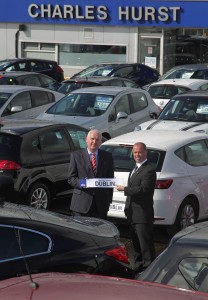 CHARLES Hurst Group, Northern Ireland's largest car retailer, is expanding its all-island footprint by taking its Usedirect concept to Dublin.
It is part of a major investment that unifies its online and physical presence in Ireland.
The company, a subsidiary of Lookers plc and which runs the Dublin Audi Centre, Ballsbridge, in addition to premises in Goatstown and Sandyford, will open its brand new Usedirect division at Kingswood Interchange, County Dublin, on April 8.

The new centre, which specialises in the sale of quality used vehicles, will bring the total number of employees in the Greater Dublin area to more than 50.
'Usedirect Ireland' now provides a showcase for at least 2,000 used cars at any one time – all of which can be viewed online – while its new premises at Kingswood Interchange on the Naas Road will allow customers to see their chosen car.
Charles Hurst Group's operations director Colin McNab said: 'We are delighted to have been servicing the driving needs of customers from across Ireland since we were established in 1911 and we are excited to bring our Usedirect brand to Dublin.'
Mark Weir, general manager of Usedirect Ireland, said: 'We're really excited about the opportunities and choice which this investment by Charles Hurst will bring to drivers across Ireland, and, more locally, in the creation of a range of new jobs.

'This prime location near all key arterial routes in and out of the city, as well as connections to the rest of the country, means we can bring our unique offering to the widest catchment area possible.'
 Originally established in Belfast more than 100 years ago, Charles Hurst previously traded in Dublin from Upper Dorset Street from 1927 until the mid-1940s, selling Crossley cars and Dennis Trucks.
Pictured at Charles Hurst Usedirect Supermarket at Kingswood on the Naas Road, Dublin, are Tom Magowan and Mark Weir
MORE: Former top JLR dealer Lee Collins joins UHY Hacker Young
MORE: Why no-one can afford to miss the Car Dealer Conference & Expo
MORE: Motorline buys Maserati dealership from Arrow
MORE: Mill Garages celebrating 50 years of selling Volvos
On superunleaded.com – Porsche Reveals Boxster Spyder, With Added Lightness