THE AVERAGE consumer saving on a new car remained static at 8.3 per cent during the last three months, according to the What Car? Target Price Report.
An analysis carried out by mystery shoppers across 7,500 new cars from March to May 2018 found an average achievable discount of £2,581 off the manufacturer list price, with only 218 models recording no savings at all.
The reports showed that, although car buyers in the UK can make a saving, discounts have actually flat-lined, while new car sales have fallen by 6.8 per cent in 2018, with 1,079,049 having been sold so far.

Dealers who are struggling with the 30.6 per cent fall in diesel sales so far this year are offering an extra £888 – 8.8 per cent compared with 7.9 per cent – off the list price of diesels compared with petrol equivalents.
It's a different story for alternatively-fuelled vehicles though, with deals down 2.1 per cent and sales increased 36.1 per cent year-on-year.
DS topped the list as the brand offering the most money off its new cars, with an average discount of 13.06 per cent on the DS 3 and DS 5.
The French brand was followed by Seat, which offered an average of 12.98 per cent off the Ibiza, Arona and Ateca.

Volkswagen and Ford were also both high on the list, offering an average discount of 11.54 per cent and 10.39 per cent respectively.
The single biggest discount found in the research was 25.44 per cent off a Seat Toledo, which equates to paying £12,434 against a list price of £16,675. Meanwhile, the top 10 list featured a wide range of models, from the Seat Mii to the BMW 7 Series.
At the opposites end of the scale, Porsche wouldn't offer any discounts on its cars, while Dacia would only go 0.96 per cent lower than the list price.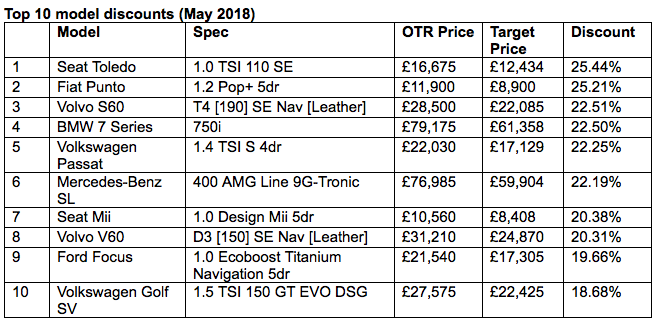 Steve Huntingford, editor of What Car?, commented: 'It's an interesting marketplace for anyone looking to buy a new car at the moment. As demand for diesels continues to wane, deals on electric cars have actually started to shrink since March.
'However, even though overall discounts have flat-lined, our target price data shows some manufacturers are still fighting hard for your money with big discounts.
'The discount slowdown could be a sign that dealers are holding off on offering their best deals until new models are introduced later this year to meet tough new emissions standards.'
MORE: Discounts on new diesel cars 25.6 per cent higher than on petrols
MORE: Haymarket Media invests £50m in What Car?, Autocar and Pistonheads in new automotive venture
MORE: What Car? crowns BMW 5 Series as 2017 Car of the Year
On WorkshopMagazine.co.uk: Automechanika Birmingham attracts more than 10,000 people to NEC