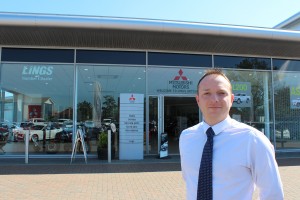 LINGS of Lowestoft is celebrating a successful first year since joining the Mitsubishi brand.
The Lings Mitsubishi showroom opened at Lings Wharf in Riverside Road in August 2014 and the past 12 months have seen the business expand while scooping a major industry award along the way.
In December the family-run dealership received the Outstanding Achievement Award at Car Dealer Magazine's Used Car Awards, in recognition of the way the team fought back from adversity after the dealership was destroyed by a flood in December 2013.

A huge tidal surge devastated the place, causing more than £2.5m-worth of damage, with the large showroom ruined and 170 vehicles written off. The five-acre site underwent a major refurbishment before launching with Mitsubishi.
Jonathan Potts, pictured, dealer principal at Lings Mitsubishi, said: 'It's been a fantastic first year and we're delighted to be celebrating our first anniversary as a Mitsubishi dealer.
'We have taken on a territory that has never had Mitsubishi before so we have been working hard to lay the foundations for a positive future. The damage from the flood delayed us opening with Mitsubishi but now we have moved on and the future is looking bright.'
As business has increased over the past year, Lings Mitsubishi has taken on extra staff and now has a sales team of three sales executives, plus Potts.

Lings joined Mitsubishi Motors UK at an exciting time, as the company's sales of passenger vehicles in the UK have increased dramatically in the past year.
MORE: Peugeot makes its Just Add Fuel package available to teenage drivers
MORE: Marshall reports strong set of figures for first half of 2015
MORE: Strong results at City Auction Group's end-of-July sale
On SuperUnleaded.com: Siri saves Tennessee woman who was pinned under truck