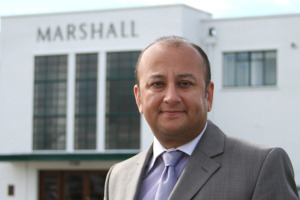 MARSHALL Motor Holdings plc has reported strong results from both its retail and leasing arms for the six-month trading period to June 30.
In its unaudited interim results, the company said revenue had increased by 16 per cent to £632.5million when compared to the figure for the first half of 2014, £545.4m.
Profit before tax up was up 9.8 per cent to £10.5million (2014: £9.5m) and earnings per share were 19.7p.

Both retail and leasing segments reported significant growth in profit before tax (up 26.6 per cent and 40.9 per cent respectively).
The company, which comprises Marshall Motor Group and Marshall Leasing, said it had been trading strongly since the start of the year, with its performance being driven by contributions from recently-acquired businesses and continued 'organic growth'.
In the firm's first trading announcement since becoming a public company, Marshall said:
New car unit sales were up by 10.4 per cent (like-for-like up by 5.9 per cent).
Used car unit sales were up by 11.8 per cent (like-for-like up by 2.7 cent).
Total aftersales revenues were up by 9.0 per cent (like-for-like up by 1.7 per cent).
Operating expenses were £62 million.
Daksh Gupta, group chief executive, said: 'The successful completion of our IPO (initial public offering) and transition to public company status marked a significant moment in the group's development and provided us with increased financial capacity to help us continue pursuing our goal of becoming the UK's premier automotive dealer group for retail and leasing.

'Based on current market conditions, the Board's outlook for the full year remains in line with our expectations.'
Marshall is the only franchised dealer group in the UK to represent all of the top five prestige vehicle manufacturer brands (Audi, BMW, Mercedes-Benz, Land Rover and Jaguar) and all of the top 10 volume vehicle manufacturer brands, including Ford, Volkswagen and Nissan.
With revenues of £1.1bn in 2014, the group is the tenth largest dealer group in the UK.
MORE: Strong results at City Auction Group's end-of-July sale
MORE: Snack shock for salesman Chris – a sandwich with added spider!
MORE: Discovery Sport is the most wanted used car on forecourts
On SuperUnleaded.com: Seven reasons why we love the new Jaguar XF