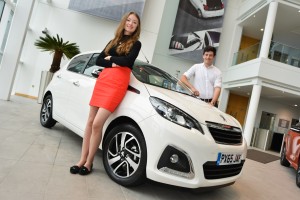 JUST Add Fuel is Peugeot's innovative and unique fixed-cost motoring package – and now it's available to teenagers.
Since launch in July 2010, more than 27,000 UK drivers have taken advantage of Just Add Fuel. Along with being hassle-free, its low single monthly payment to cover all motoring costs and exceptional value for money have been the appealing factors.
But it has only been available to drivers aged 21 or older – until now.

Peugeot has again rewritten the retail rule book and, thanks to the use of advanced telematics technology, younger drivers can benefit for the first time.
Just Add Fuel is an innovation which has had a significant influence on UK car-buying patterns. It includes:
A single monthly payment to cover all motoring costs.
No need to budget for insurance, servicing, road fund licence or roadside assistance costs – they are all included.
No need to search for cheaper insurance each year.
Fixed-price motoring for three years, giving peace of mind.
A transparent motoring package with no hidden costs.
The opportunity to drive a new car every three years, meaning no MOT costs.
Neil Moscrop, Peugeot brand director, commented: 'Just Add Fuel is recognised as the most significant innovation in vehicle retailing for a number of years. Now we can widen its appeal even further.'
Just Add Fuel for those aged 18-20 is only available to Peugeot 108 buyers and is priced from just £248 rental per month.

The secret is a discreet plug-in telematics device. Using satellite tracking, it assesses the customer's driving style and rates each journey made, on a scale from one to 100. Customers will have access to an online portal where they can review their driving activity.
This is also regularly monitored by the insurer and an aggregate score awarded. Feedback is provided to assist the customer in improving this if necessary. If the score falls below an agreed threshold, the driver will receive a warning.
Four warnings a year will result in the insurance policy being cancelled. This may reduce the number of insurance products available to the customer, and/or increase the premiums they are quoted. Terms and conditions apply.
MORE: Marshall reports strong set of figures for first half of 2015
MORE: Strong results at City Auction Group's end-of-July sale
MORE: Snack shock for salesman Chris – a sandwich with added spider!
On SuperUnleaded.com: Seven reasons why we love the new Jaguar XF