A SALES MANAGER has tried to shift a wreck of a BMW on eBay by being completely honest about it!
Richard Harris, of Birkenhead-based Classic Cars of Wirral, headlined the 1998-reg trade-in BMW 318ti as
THE WORST BMW ON EBAY??
matter-of-factly adding: 'Everything is in poor condition'.

The blue four-seater was bluntly described as a 'piece of crap' as well as a 'proper little chav chariot', with an exhaust sounding 'like a fart in a bath'.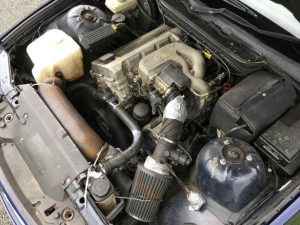 Offering it sold as seen and for parts only, Harris's utter contempt for the vehicle continued in the description, where he wrote: 'If in doubt, please presume all parts of the car are either broken, rusty, or covered in some kind of dubious residue. That way you won't be disappointed. Actually you probably will.'
It continues: 'While the front wings may look like they are securely attached to the car, they are in fact flapping gaily in the spring breeze that we have today. They may break free at any time.'
Also in the description, he jokingly says: 'When selecting tyres, the previous owner used the thinking that variety is the spice of life. They are all of various wear levels and some of the countries they have come from no longer exist so please presume they require replacement.'

Harris subsequently told the Liverpool Echo: 'It's without a doubt the worst car I've ever sold – it had no redeeming features.'
The no-reserve auction drew 35 bids, with the top one at £220, although nobody has apparently shown up to pay for it yet, in which case Harris is resigned to putting it up for sale again.
MORE: JCT600 hands over first BMW i3 at BMW Bradford
MORE: Infamous Top Gear BMW M3 reappears at BCA
MORE: More and more M people make it a great year for BMW
On SuperUnleaded.com: Pair Crash A Car, Decide It's The Perfect Time For A Snooze