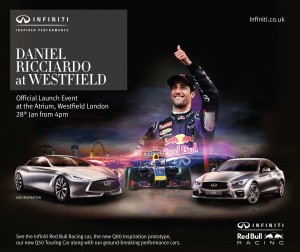 FORMULA 1 driver Daniel Ricciardo is to be the guest of honour to celebrate the opening of new Infiniti stores in London.
The Infiniti Red Bull Racing F1 ace open a special five-day Powered by Infiniti public display at Westfield London on Wednesday, January 28.
The premium automotive brand is opening new stores at Westfield Shopping Centres in London, Shepherd's Bush and Stratford City.

The Australian driver, who finished third in the 2014 F1 drivers' championship, will be interviewed live on the Infiniti events stage, located in the Atrium area at 4.45pm on the day, followed by a public autograph signing session.
The grand opening comes on the back of the introduction of two stores at the Westfield sites and the confirmed development of two further boutique stores to follow later in 2015.
François Goupil de Bouillé, Infiniti vice-president for Europe, Middle East and Africa, said: 'Infiniti is one of the fastest-growing premium brands in the UK and in Europe, and Daniel Ricciardo is a rising star in F1. This is a great match.'
As well as the F1 driver's presence, the Infiniti event will also showcase the brand's UK-centred design capabilities, with Infiniti's design director, Simon Cox, attending from the company's design studios in Paddington.

A special design showcase will form part of the launch display, including design elements all the way from the drawing board to clay modelling through to concept, with a model of the Q80 Inspiration model on show.  The Infiniti Design team will hold a live demonstration of their skills on January 29.
Infiniti will also display the fully-liveried 'Infiniti Support Our Paras Racing' Q50 ahead of its British Touring Car Championship debut this year. The not-for-profit race team will be raising money in 2015 for the British Paratroopers charity, Support Our Paras.
Also on display will be the first UK appearance of two of the newest Infiniti models, the QX70 Design and the latest generation Q70, with a new ultra-refined range of 2.2-litre diesel engines, as previewed at the Paris Motor Show in 2014.
The models have only recently gone on sale in the UK and will be available in all Infiniti regional centres including the new stores at both Westfield London and Westfield Stratford City.
Visitors to both Westfield sites will be able to experience the new Infiniti Q50 2.0 Turbo.
Right: The layout at Infiniti Westfield
MORE: Audi's virtual-reality revolution