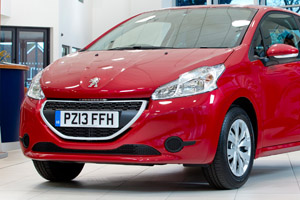 THE NUMBER of cars registered on a '13' plate will be lower than expected, the AA has predicted – but not because of any superstition towards the figure.
According to the AA's Car Purchase Index, fewer people than ever are considering buying a car: with 45 per cent of the 22,000 respondents saying that they have 'no plans' to purchase a vehicle.
The AA says that this is the highest number to give new cars the shrug since 2009, when just 25 per cent said that they weren't planning to buy a car in the next two years.

In addition, of those who were planning to purchase a car, just 22 per cent said it was likely to be a brand new one. It's only those over 65 who are likely to pay out for a new model, in fact: with 31 per cent opting new over used.
'A car is a purchase decision that is not taken lightly for families who are struggling to juggle their finances,' commented Mark Huggins, director of AA Financial Services.
'The growing number of those with no plans to change their car is perhaps a barometer of spending power as well as modern car reliability.
'Families have competing priorities for limited financial resources so if the car's running well, then changing it slips to the bottom of the wish list.'

Huggins suggests that this won't be welcome news for the industry, with dealers potentially having to shave profit margins to keep sales coming in.
'I expect a lot of forecourt deals to be offered after the initial rush for the "13" plate, which means those who bide their time could make some decent savings,' he said.
The figures come after research by website Carbuzz.co.uk suggested that the majority of the public wouldn't be put off by any superstition surrounding the '13' plate.
Of the 2,058 people asked, 73 per cent said they wouldn't be put off buying a car on a '13' plate – while just 10 per cent said they would because of superstition.
17 per cent, however, said they'd avoid the new numberplate for fear it would affect the trade-in value at a later date.