What is it?
Aston Martin was faced with a tough act to follow when it discontinued its Vanquish S last year, but it is hoping that this – the DBS Superleggera – has what it takes to fill its shoes. Wading into battle with the Ferrari 812 Superfast firmly in its sights, the DBS is a meaner, faster adaptation of the DB11 platform. It also features a turned-up-to-11 version of Aston's famed twin-turbo V12, which should give it more than enough performance to match its brutish looks.
What's new?
Aston has thrown everything it could at the new DBS. Many of the vehicle's body panels have been crafted from carbon fibre to reduce weight, while a lightweight bonded-aluminium structure helps keep its bulk down further.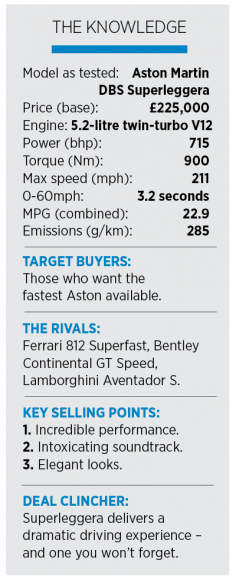 There is, of course, that V12 engine too – though we'll look at that in more detail shortly.

You also have, thanks to a double-diffuser, a car that generates genuine downforce – 180kg at its highest speed, in fact. Make no mistake – this is one Aston that is out to deliver a driving experience that matches its jaw-dropping looks.
What's under the bonnet?
Here's where things get really interesting… Powering the DBS Superleggera is a 5.2-litre twin-turbocharged V12 engine, the same as you'll find in the DB11. However, whereas that engine in the DB11 AMR produces 630bhp, the DBS kicks out 715bhp and an incredible 900Nm of torque.
With power sent to the rear wheels through an eight-speed ZF transmission, the DBS can hit 60mph in 3.2 seconds and continue onwards to a 211mph maximum speed. Keep the car in fourth gear when travelling at 50mph and you'll crack 100mph in just 4.2 seconds.
As you'd imagine, economy figures aren't the best. Aston claims 22.9mpg on the combined cycle, while CO2 emissions are pretty high at 285g/km. However, numbers like those are to be expected of a large, extremely powerful supercar.

What's it like to drive?
The main thing that strikes you when you first drive the DBS Superleggera is its unquenchable thirst for speed. Plant the throttle and there's a slight pause, then the whole car sprints forward like few other vehicles on sale today.
It's also accompanied by an interesting, turbocharger-led exhaust note – there's a real scream as they both spool up while accelerating.
The chassis is similar to that of the DB11, and in that sense it shares the same feeling of cross-country readiness; there remains a small amount of play to the suspension which, though still firm, reminds you that this is billed as an out-and-out grand tourer. Adaptive dampers are fitted as standard, and these do allow you to firm up or soften the ride – a feature that's likely to be welcome on the UK's rutted roads.
How does it look?
We can't argue with the way the DBS Superleggera looks. It's immensely imposing, with its large front grille and angled bonnet scoops (with the latter a reference to the previous-generation DBS) combining to create one angry-looking car.
The DBS comes with elegant forged wheels, and these help to contribute to the car's overall thuggish looks. We've heard criticism of the lack of a traditional 'winged' Aston Martin badge at the rear of the car – here replaced by the brand's name in chromed letters – but in the flesh it doesn't look all that bad.
What's it like inside?
The interior of the DBS is finished beautifully, with soft leather throughout the cabin helping to create a luxurious feeling. During our time with the car, everything felt well put together 
and nothing squeaked or rattled – though you'd hope so, given the car's £225,000 base price.
We're still left underwhelmed by the main infotainment area – it's too cluttered. That said, it's contrasted by a steering wheel that's beautifully shaped and trimmed in Alcantara.
What's the spec like?
There's plenty of kit included with the DBS as standard. You get Aston's 8.0-inch infotainment pack – a Mercedes-borrowed system that works reasonably well despite lacking the sharpness and clarity offered by rival manufacturers – alongside a full satellite navigation system and a premium audio system. You also get a 360-degree parking camera, which really does come in handy.
What do the press think?
Wired said: 'This is an ideal car for overtaking on country roads as well as eating motorway miles in relative comfort.' Goodwood Road and Racing said: 'When you drive it, you tend not to spend too much time focusing on your surroundings because you're too damn busy hanging on.'
What do we think?
The Aston Martin DBS Superleggera more than eclipses the Vanquish S it replaces. It feels more composed, more up to date and more exciting to drive, too. Its performance is intoxicating; the twin-turbo V12 delivers all of the drama you could possibly want from a supercar, and its styling is different enough to help it really stand out against any other car of its type on sale today.