What is it?
This is a fully electrified compact SUV with a class-leading range of up to 300 miles on a charge, but despite that, it's priced to compete with the Nissan Leaf. Is it too good to be true?
What's new?
The Kona's gained a new, aerodynamic front grille that conceals the charging socket and it's made the most of losing a mechanical gear linkage by adding a raised centre console with fly-by-wire drive selection and extra storage. There are also some unique paint colours and new alloy wheels.
What's under the bonnet?
The Kona is available with two battery packs. There's a lesser 39kWh battery pack mated to a 134bhp electric motor and capable of 194 miles on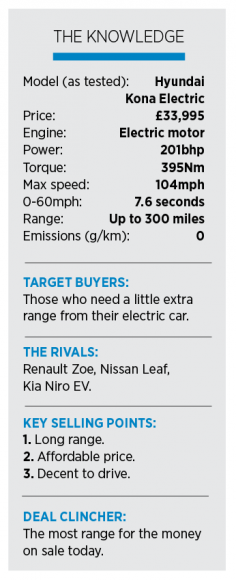 a charge, but we suspect most will opt for the heftier 64kWh battery, which comes with that headline range.

It offers good performance thanks to a 201bhp power output and bags of instantaneous electric torque. As is the nature of electric vehicles, power tails off over 60mph – which means motorway cruising is less effortless than in a similarly powered diesel – but it's really zippy from a standstill.
What's it like to drive?
For nipping around town, the Kona Electric is absolutely ideal, with reasonably precise steering and a low centre of gravity making tight cornering easy. The stylised SUV body with its slightly raised driving position also improves visibility at the front, but thick C-pillars hinder the view out of the back.
The Kona Electric is quite a heavy car thanks to all those batteries, and that weight numbs the handling somewhat, but it's still fun to drive.
How does it look?
The front grille has gone, replaced by a solid fascia dappled with a diamond pattern. A horizontal bar links the daytime running lights, although Hyundai still positions the headlamps underneath in an 'upside-down' arrangement.

The rest of the car is fairly standard Kona, which means it retains a familiar compact SUV shape. It also keeps the standard car's rather jarring rear light arrangement, but happily there are still some nods to SUV utility – including roof bars and black plastic cladding around the wheelarches.
What's it like inside?
The centre console has had a makeover. With no physical gear linkage to accommodate, the whole arrangement has been raised to bring key functions closer to the driver, give a cockpit-like feeling and to provide storage underneath.
Drive is now selected by individual buttons but they take up as much space as a physical gear knob and are less intuitive to use. We also dislike the shiny silver plastic Hyundai's added, as it makes the car feel very cheap inside.
However, there's plenty of space and Hyundai's instrumentation and major controls remain some of the most instinctive in the business.
What's the spec like?
There's adaptive cruise control, blind-spot warning, lane-keeping assist and reversing camera as standard on the safety front. You also get climate control, heated and ventilated front seats and an eight-inch touchscreen infotainment system with Apple CarPlay and Android Auto.
What do the press think?
Auto Express recently gave the Kona EV its Affordable Electric Car of the Year award, saying: 'The core of the car's talents are its genuinely usable real-world electric range and that affordable price tag.' Top Gear said: 'A proper tipping point BEV: genuine 300-mile (ish) range in a small SUV for under £30k. Consider it.'
What do we think?
The Kona Electric would have been a fine electric car even with a lower range, but offering 300 miles on a charge means it doesn't just compete with the likes of the Nissan Leaf – it triumphs in a pretty decisive way. In fact, the Kona is the most usable electric car on the market this side of a Tesla Model S – a car that starts at well over twice the price. This could be the kick-start people need to leap to electricity.