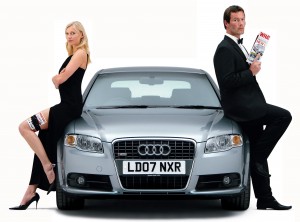 FEMALE car buyers are becoming more reliable customers than their male counterparts, Government figures suggest – with more and more women owning cars than ever before.
Women drivers have pushed car ownership to 40 per cent for the first time since records began and last year, across the UK, 9.8166 million women were registered with the DVLA as private car keepers compared to 14.5734 million men.
It is clear car purchasing is no longer a male dominated arena as the number of private cars with a female registered keeper has increased by 70 per cent since 1994.

Since the global financial crisis, women's new car purchasing figures have been far more robust than their male counterpart's, which have seen new cars registered fall from 575,400 in 2007 to 475,100 in 2012, down 17.43 per cent.
Figures for women were 387,000 to 363,900 during the same period, a fall of just 5.97 per cent. The statistics are a world away from the late 1970s when only 29 per cent of women actually held a full driving licence.
In 2011, of the 35 million full licence holders, 16 million were women, a healthy 46 per cent.
'Women drivers really have registered their girl power recently by pushing their car ownership above 40 per cent for the first time. Whereas male buyers have become unreliable in the new car market, demand from women has remained firm. It's a trend that car manufacturers and dealers ignore at their peril,' said Edmund King, the AA's president.

The news comes after a recent study revealed that women drivers are actually better than men at purchasing cars, with only 35 per cent feeling they had got a bad deal compared to 43 per cent of the opposite sex.
Have you filled in our Car Dealer Power survey yet? It's a great opportunity to have your say, and you could win one of seven great prizes! Click here to enter.