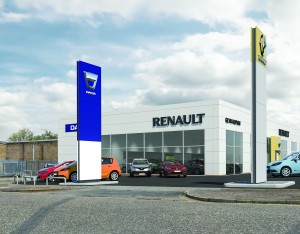 TWO new names will be added to Glyn Hopkin's expanding portfolio of vehicle brands when the group opens a bespoke new facility in Chelmsford to sell and service Renault and Dacia vehicles.
The £1 million investment should pave the way for further rises in revenue and profit for the fast-growing group, which already has 37 showrooms representing Nissan, Nismo, Fiat, Abarth, Alfa Romeo, Suzuki, Honda, Mitsubishi, Jeep and Infiniti.
When the new, purpose-built Renault and Dacia showroom opens fully in August following a 14-week build programme, there will be a 20-vehicle showroom, representing the two brands' combined 15-strong model ranges.

The move by Glyn Hopkin is creating new jobs in the Chelmsford area. There will be 15 staff catering to customers' sales and aftersales needs at the dealership, among them five new recruits to the company. At least five additional employees will be taken on at a later date, joining the 650-strong Glyn Hopkin group-wide headcount.
Fraser Cohen, managing director at Glyn Hopkin, said: 'To bring Renault and Dacia into the Glyn Hopkin fold is an exciting development for the group, bringing new earning and growth potential. We plan to play a valuable role in driving further growth once we are fully up and running, introducing many new customers to these fascinating brands.'
Renault and Dacia each recorded increased year-to-date car sales of over 10 per cent when compared to the same period last year, based on the latest vehicle registration figures released by the SMMT.
MORE: New rules coming – which mean a customer can reject a car within the first 30 days after purchase

MORE: Bad customer service puts off nearly half of new-car buyers
MORE: RAC BuySure upgrades used-car package to customers
MORE: Steady growth in level of new car registrations
On superunleaded.com – Embarrassing Moment Overfinch Range Rover Is Rescued By 40-Year-Old Ancestor