HUTCHINGS Motor Group has opened a state-of-the-art Hyundai showroom in Swansea.
The £2.5m development was launched in time for the firm to gear up for the September car registration plate change.
Group managing director Stephen Hutchings said: 'Following five years of successful partnership with Hyundai, we are delighted to announce the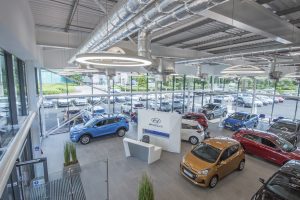 opening of this prestigious new dealership, with the finishing touches now being completed on what will be the most significant dealership opening for the Hyundai brand this year.

'We are very confident in the potential of the Swansea market to justify this £2.5m investment for the continued growth of Hutchings Motor Group with Hyundai.
'We are particularly delighted to have secured such a prominent and well-placed location at the end of Valley Way on the Enterprise Park in Llansamlet.
'All our existing Swansea-based staff colleagues are looking forward immensely to moving into the new site from our current Carmarthen Road location. We plan to further increase our staff numbers as the business expands.'
John Hutchings, group chairman, added: 'From the start of this project we committed to ensuring that the main consultants, engineers and contractors involved in its construction would be Swansea-based, ensuring that the whole investment would feed into the local economy.

'Future-proofing the facilities in the new premises was also a major priority, allowing for sufficient additional internal and external expansion space.
'Renewable energy featured strongly in the design brief, including a substantial roof-mounted photovoltaic installation, which will provide a significant proportion of our electricity, and a sophisticated rainwater harvesting system which will provide our own self-sufficient water supply.'
Hutchings Motor Group employs more than 100 staff and has other Hyundai dealerships in Bridgend and Pontypridd.
MORE: New finance and insurance director joins Vertu Motors
MORE: SMMT admits getting figures wrong over used car sales fall
MORE: Motor Village UK unveils new website
On SuperUnleaded.com: What you need to know about the new BMW M5