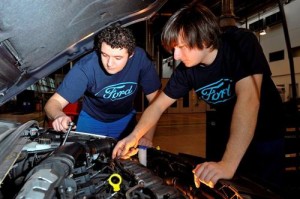 THE Institute of the Motor Industry (IMI) is campaigning for employers to increase their apprentices' pay by more than 70 per cent to compete with academic career paths.
CEO of the IMI Steve Nash is set to address senior business figures at the group's annual dinner this Thursday (March 12). He will explain that return on investment research demonstrates that most companies could increase starting salaries from the legal minimum set by Government of £2.73 to £4.73 per hour without loss of profitability. Nash explains the changing landscape in academic and vocational education means the motor industry will need to place a premium on its apprenticeships if it is to succeed in attracting the best young talent.
Nash said: 'The industry is telling us it struggles to attract the highest quality school leavers into training to help overcome the technological challenges it faces over the next decade. This demand cannot be met while the industry continues to pay apprentices the legal minimum of £2.73 per hour across the board.

'The education system is now totally geared up to keep young people in school until they're 18 and push them toward university. Meanwhile, young people no longer have access to careers advisors who might send them down a vocational route, since the service was re-organised in 2012. This puts industry at a disadvantage.'
He continued: 'The pool of available young people to go into apprenticeships is set to shrink dramatically despite the election promises we've heard from all the parties. Industry must take action independently.'
To offset arguments against raising pay on economic grounds, the IMI has produced evidence to show the motor industry can easily cope with a £2 per hour uplift in the starting salary for apprentices.
By using an econometric model developed by Dr Paul Spear, in a government funded study, the IMI could calculate the return on employer investment. You can try this out for your apprentices on its website by clicking here http://www.theimi.org.uk/calculator.

MORE: Motors.co.uk launches new TV ad campaign… with a finger
MORE: 60 per cent of motorists have had a 'bad experience' at a garage, says RAC
MORE: UK car market has now experienced its longest-ever period of growth