JACK Barclay Bentley has opened the latest chapter in its 91-year history with a bespoke, hand-crafted boardroom table.
The original table, used by Jack Barclay himself and a number of the Bentley Boys, went missing some years ago.
The Mayfair showroom – the world's oldest Bentley dealership – underwent a multi-million-pound renovation earlier this year, and the new table is seen as the perfect finishing touch.

Many of the showroom's original features were kept during the renovation, including the art deco signs, chequerboard floor and boardroom's wood panelling, but Jack Barclay Bentley, which is a flagship dealer for the H.R. Owen Group, took the opportunity to begin a new tradition by commissioning a piece of furniture for its next 91 years.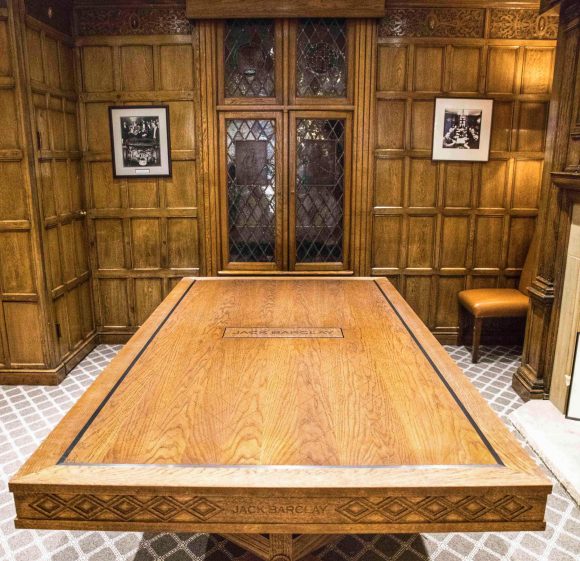 Unveiled during the latest PAD London exhibition for art, design and decorative arts, the stained-oak table was designed by St James Interiors and came as part of a collection of new interior pieces hand-crafted for Jack Barclay.
It incorporates a few subtle but significant details, giving a nod to Jack Barclay Bentley. The sturdy oak legs form a symbolic Union Jack – celebrating the great British heritage of the dealership. The surface is also engraved with the diamond pattern found on Bentley grilles, while the Jack Barclay logo is carved into the centre of the table's thick, polished top.
Ken Choo, chief executive of H.R. Owen, said: 'When we renovated Jack Barclay Bentley, we ensured that we kept many of the original features intact.

'As the world's largest and oldest Bentley dealership, it holds a very special place in the hearts of Bentley enthusiasts throughout the world, so it was important that we retain its character. But we're also a forward-thinking business, creating history of our own, and we want this new boardroom table to be a crucial part of the Jack Barclay story for many years to come.'
MORE: Jack Barclay Bentley welcomes First Edition Continental GT
MORE: Interview – Derek Bennett of Jack Barclay Bentley
MORE: Single Franchised Winner of the Year Eward – Jack Barclay Bentley