EVERY month in Car Dealer Magazine, the legal experts at Lawgistics, the Car Dealer Club lawyers, answer queries from members of the motor trade, providing invaluable help and advice on a range of issues.
One member who contacted them recently was David Anderston of Yorkshire Exclusive Cars recently ran into trouble with a customer who believed her car had been mis-sold to her 16 months earlier.
'We had a bit of a situation that we hadn't come across before,' explained Anderton. 'We were contacted by a customer who bought a car from us which had developed a problem. She was alleging that the car had been remapped, ie, that it had undergone a modification before she bought it. She said we had mis-sold it and wanted us to provide a full refund.'

It was at that point that Anderton called Lawgistics – the free legal service that comes as part of his £39.99 Car Dealer Club membership – to see if they could help.
He told us: 'Lawgistics confirmed that we were doing the right things. We were not being asked to repair the car, but the allegation was that the car had been modified and it was left that the customer needed to evidence that.
'Even though we're a few weeks on now, we still don't know if the car was remapped. If it turns out that it has been, we need to know if there's a liability – given that we could never have known.
'It was only a two-year-old car when she bought it and we had spoken to the original owner, the one and only owner. We bought it from an Audi dealer who took it in part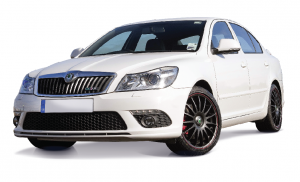 exchange. It had been serviced four times at a Skoda dealership and had been serviced the month before in fact.

'It was then workshop checked by us, driven by me and it didn't feel any faster than anything I've driven before. I spoke to the original owner and I asked if any modification had been made to the car.
'He was adamant that no modification had been made and said he was prepared to put that in writing.'
Anderton explained that the current owner of the car, a Skoda Octavia vRS similar to the one in our picture below, was experiencing a problem with the diesel particulate filter. When it went in for repairs, mechanics couldn't access the ECU, leading to a suspicion that the car could have been remapped.
He continued: 'We try to do the right thing by people. We pay out when we don't need to pay out for reputation's sake. I have done that over the years, but this one is unusual and there are other things which could have caused it to be blocked. It could be a repairer accessing the ECU the wrong way, for instance. I understand it's been to four different repairers.'
Although the issue isn't quite settled yet, Anderton is more than happy with the assistance and guidance offered by Lawgistics so far.
He said: 'Lawgistics were great. I explained that I was a Car Dealer Club member, and they put me through to someone straight away who just listened.
'I do understand the Sale of Goods Act but I thought, ''I'll just check''. It's so useful because they're motor trade specific.
'I knew I could pick up the phone to a local lawyer but they wouldn't have the motor trade-specific experience that Lawgistics have.'
Click here to find out more about Car Dealer Club.
MORE: New partnership aims to supply great parts and good value
MORE: Help us mark our move to new premises, says Burton dealership