Here's your business, motoring and news round-up for Tuesday, July 21
Pay rise announced for almost 900,000 public sector workers
Public sector workers on the front line of dealing with the coronavirus pandemic will be given a pay rise, the chancellor has announced.
The above-inflation pay rise will see almost 900,000 workers benefit, with teachers and doctors seeing the largest increase at 3.1 per cent and 2.8 per cent respectively, according to the treasury.

Police, prison officers and National Crime Agency staff will be given a 2.5 per cent rise, while members of the armed forces, the judiciary and senior civil servants will see their pay topped up by two per cent.
Volvo profits fall but predicts recovery
Volvo Cars has announced an operating loss for January-June period but expects business to improve later this year.
Sales have improved in quarter two China leading the Swedish brand to expect a similar recovery in Europe and the US.

CEO Hakan Samuelsson said: 'If the market recovers as we expect, we anticipate sales volumes to return to the levels we saw in the second half of 2019 and it is also our ambition to return to similar profit levels and cash flow.'
Hermes to create 10,500 new jobs 
Delivery giant Hermes will create more than 10,000 new jobs in the UK as it invests £100m to meet the demand from stay-at-home shoppers.
It will take on around 1,500 new full-time staff, including workers at its Yorkshire head office, warehouse staff, and drivers, and will create another 9,000 opportunities for self-employed couriers.
Hermes said it is preparing for a massive Christmas season, and expects to carry around 3.5 million parcels a day during the period, nearly double last year.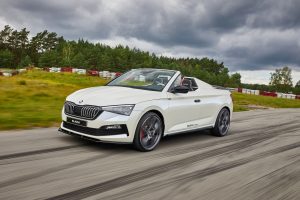 Skoda students produce one-off roadster
Skoda's Student Car project has produced yet another striking concept – the Slavia.
Essentially a convertible version of the firm's Scala, the Slavia isn't intended to enter production but instead showcase the talents of 31 trainees.
Influenced by the looks of the Skoda 1100 OHC sports prototype of 1957, the Slavia has welded rear doors, four-point seatbelts and Sparco race seats, while LED lights on the sills project the three colours of the Czech flag.
Driver take Uber to Supreme Court
Uber will defend its business model and practices at the Supreme Court today.
Two former Uber drivers are taking the firm to an employment tribunal claiming they are entitled to workers' rights such as being paid the minimum wage, taking breaks and having paid holidays, according to Reuters.
Currently, drivers are viewed as self-employed and are entitled to a minimal level of protection, but Uber has already lost two appeals in the case, with the case now being elevated to the Supreme Court.
Jeep reveals new plug-in hybrid Renegade
Jeep has introduced a new plug-in hybrid version of its Renegade.
Badged Renegade 4xe, it uses a 1.3-litre turbo petrol engine linked to a 11.4kWh battery and electric motor, allowing it to travel up to 26 miles under electric-only power at speeds of up to 81mph.
Two different power outputs will be offered from launch – 187bhp and 237bhp – and three trim levels: Longitude, Limited and Trailhawk. Priced from £32,600, the Renegade 4xe will arrive in showrooms this September.
And looking at the weather…
Today
Much of the UK will be dry with sunny intervals, says BBC Weather, but Northern Scotland will see showers. Thicker cloud and rain will move into Northern Ireland and western Scotland later in the day.
Tonight
Southern areas will remain dry but the north will see outbreaks of rain spreading eastwards, some heavy for western Scotland and Northern Ireland.
Wednesday
Northern areas will be unsettled and breezy with spells of rain, heavy at times for Scotland. The southern half on the country will be largely dry with some sunny intervals.