Here's your business, motoring and news round-up for Wednesday, July 29
Shop prices fall on high street
Shop prices fell again in July, according to new figures.
The latest BRC-Nielsen shop price index revealed that shop prices slid 1.3 per cent in July, as non-food products dropped in value. However, this represented a slowdown in deflation from June, when prices fell by 1.6 per cent.

Non-food prices fell by 2.9 per cent in July compared with 3.4 per cent in June, while food inflation remained steady at 1.5 per cent in July. The price of fresh food increased by 0.9 per cent, although this was offset by a slowdown in inflation for ambient food, which grew by 2.3 per cent for the month.
Bike repair voucher website struggles at launch
Boris Johnson's plan to get Britons cycling has got off to a wobbly start, with the website offering bicycle repair vouchers crashing at launch.
As part of the prime minister's £2bn scheme to boost active travel, the government has made some 50,000 'Fix Your Bike' vouchers available to be used for standard servicing and replacing components.

The website, fixyourbikevoucherscheme.est.org.uk, was due to go live at 11.45pm on Tuesday night, but it was blighted by error messages. It finally got up and running in the early hours of this morning, still with many errors.
Mitsubishi's European exit 'surprised' UK boss
The news Mitsubishi was ceasing production of cars for the European market – effectively sounding the death knell for the brand – came as a surprise even to the brand's UK managing director, Rob Lindley.
He exclusively told Car Dealer he and his team were 'shocked and saddened' to hear the news no new cars would be developed for Europe, but that he would 'work a way through it' with his dealer partners.
Lindley said the Colt Car Company, the company that imports Mitsubishis to the UK, was already talking to other brands and that these talks will now be 'accelerated'. Read more
Waitrose and John Lewis home delivery vans set to go electric
Waitrose and John Lewis customers can expect their home deliveries being made by electric vans soon.
The John Lewis Partnership has announced plans to significantly increase the use of electric vans for deliveries, as part of its aim to end the use of fossil fuels for its entire 4,800-vehicle fleet by 2030, saving an estimated 20,000 tonnes of carbon dioxide every year
Two new designs of vehicle for Waitrose.com food deliveries (pictured above) and for small John Lewis orders will be trialled early next year, with plans to switch 1,700 delivery vehicles over to electric in 2021, the company said.
Barclays sets aside £1.6bn
Barclays has set aside a further £1.6bn in its second quarter to cover the cost of loans it thinks could turn bad, largely as a result of the coronavirus crisis.
The bank said the impairment charge meant it would see a profit before tax of £1.27bn in the second half of the financial year – down considerably from £3bn in the same period in 2019.
It came on revenue of £11.62bn in the first half of the year.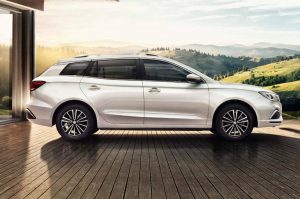 MG reveals all-electric estate car
MG Motors will offer another electric car its model range – the 5 estate car.
Set to sit alongside the firm's existing ZS EV, the new MG 5 will have a range of 214 miles from a 52.5kWh battery pack.
It's believed that the 5 is an updated version of the Roewe Ei5, a car sold exclusively in Chinese markets.
Public back early pay rise for all NHS staff
All NHS staff should be given a pay rise before the end of the year the majority of people believe, a poll suggests.
More than two-thirds (69 per cent) said all NHS employees should be awarded a rise during 2020, according to a survey of 2,000 by Unison.
Health workers are in the final year of a three-year deal. They are due a pay rise next April, but unions want the government to bring this forward, especially after it did not to commit to an early pay rise for all NHS staff last week as wage increases for 900,000 public sector workers were announced.
More than 1,300 English sites exceed pollution limits
More than 1,300 sites across England are breaching annual limits for harmful pollutant nitrogen dioxide, analysis by Friends of the Earth suggests.
The environmental group has analysed the latest data on air pollution from English local authorities' air quality annual status reports submitted to the government.
It said 1,360 monitoring sites across the country exceeded the annual average air quality target of 40 micrograms per cubic metre of air for nitrogen dioxide in 2018, the most recent year for which data is available. In some spots, the annual average was more than double the level set to protect health from long-term exposure to pollution.
And looking at the weather…
Today
Much of the UK will see dry weather dry with areas of cloud and occasional sunny spells, reports BBC Weather. However, Northern Ireland and north Wales will see rain move in later in the afternoon. Breezy in the north.
Tonight
Cloud and patchy light rain will move into north-western areas, while longer spells of heavy rain will affect Northern Ireland. The south and east of the UK will be dry with clear spells.
Thursday
Outbreaks of heavy rain and brisk winds move across Scotland and Northern Ireland. Much of England and Wales will be dry and increasingly warm with plenty of sunshine.
Today on Car Dealer Live – DS Automobiles UK boss Alain Descat (broadcast live at 1pm)
Monday's Car Dealer Live – Car Dealer columnist James Litton