Here's your business, motoring and news round-up for Thursday, July 9
More lockdown restrictions set to be eased
More parts of the UK's economy could be given the green light to reopen, a day after the chancellor announced an emergency support package to protect against the coronavirus recession.
People in Scotland are awaiting news today about whether the country can move into the next phase of its lockdown easing, allowing drinkers to enjoy a pint inside pubs, diners to go to restaurants and customers to return to hairdressers.

First Minister Nicola Sturgeon is expected to give a statement to the Scottish Parliament outlining when and how measures will be lifted, although she has suggested that not all restrictions will be eased at the same time.
Burger King could be forced to shut one in ten outlets
Burger King UK's boss has warned that up to 1,600 jobs could be lost as a result of the coronavirus pandemic.
Only about 370 of the restaurant chain's 530 UK stores have reopened since the nation went into lockdown.

Chief executive Alasdair Murdoch told the BBC's Newscast the economic damage stemming from the crisis could ultimately force the company to permanently close up to 10 per cent of its stores.
Lotus announces new manufacturing facility creating 125 jobs
Lotus is merging its steel fabrication and lightweight structures businesses into a new facility in Norwich that will see 125 jobs created.
The Hurricane Way factory, which is 10 miles from the firm's headquarters in Hethel, Norfolk, will be converted to a new high-tech sub-assembly facility. It will house manufacturing for aluminium chassis used in the firm's sports cars as well as other components for other car companies.
The firm says it has outgrown its separate facilities in Worcester and Norwich, and merging the two divisions will also allow it to upgrade machinery and tooling for its next generation cars.
Time to stop advising people to avoid public transport
Transport giant FirstGroup has urged the government to stop encouraging people to avoid trains and buses.
Chief executive Matthew Gregory claimed it is time to 'move away' from appealing to passengers not to use public transport for non-essential journeys.
Despite coronavirus lockdown restrictions easing in recent weeks, the Department for Transport continues to tell people to 'stay off public transport if they can' due to the coronavirus pandemic.
Housing market saw short-term bounce in June
The number of house hunters rebounded in June, but property professionals were cautious about the year ahead, according to surveyors.
Some 61 per cent of professionals saw new buyer inquiries increase rather than decrease over the month, the Royal Institution of Chartered Surveyors (Rics) said.
This was in stark contrast to readings of minus 7 per cent and minus 94 per cent posted in April and May respectively. The number of new properties being listed for sale also increased in June.
M4 claims over Ineos factory decision dismissed as 'nonsense'
Claims that a lack of improvements to the M4 in South Wales led to a decision by a British billionaire to put on hold plans for a new car plant have been dismissed as nonsense by a Welsh Government minister.
Ineos Automotive is considering scrapping its plan to build a car plant in Bridgend, where production of a new 4×4 vehicle named Grenadier was due to begin next year and instead move to Germany.
Welsh Secretary Simon Hart had told MPs the Ineos decision was linked to the Welsh Government's 'inability or unwillingness' to upgrade the motorway, but a minister described that claim as 'nonsense on stilts'.
Lloyds returns PPI cash after sending itself letters 
Insurance staff at Lloyds Bank accidentally sent letters intended for customers to the bank's own offices as part of a series of blunders.
The bank has agreed to pay back nearly £96,000 to more than 10,000 customers who were not kept properly up to date about their payment protection insurance (PPI).
Among 18 breaches listed by the competition watchdog, the bank's officers had sent letters meant for 12 customers to its own branches after a computer error.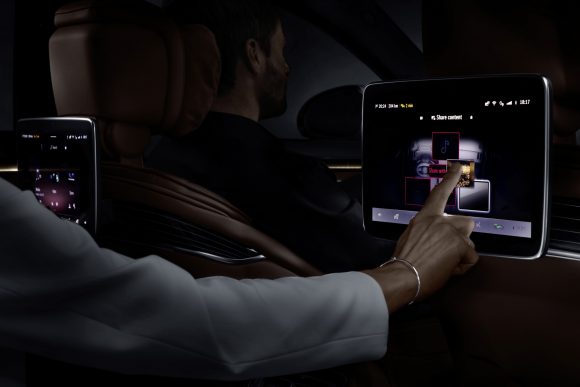 Mercedes-Benz previews new S-Class infotainment system
Mercedes-Benz has given a glimpse of the cabin set to feature in the upcoming S-Class.
Set to arrive later this year, the S-Class has been a consistent benchmark when it comes to new car technology, with many of the latest systems being debuted in the high-end saloon.
One of the most notable features is the second-generation of the Mercedes-Benz User Experience (MBUX) infotainment system, which is fitted with speech recognition as well as sharper displays and controls.
Renault drops Grand Scenic from UK range
Renault has axed its Grand Scenic MPV from its UK range, following on from the removal of the Koleos SUV from the firm's line-up of vehicles last week.
The firm's sole seven-seater's departure comes after the regular Scenic was dropped last year.
Renault has said that the decision to remove the Grand Scenic from the range was made prior to Covid-19, and that the pandemic's outbreak did not affect its plans.
Weather: Still unsettled but weekend looks brighter
The BBC says it will be another dull, damp day for central and southern areas while further north, it will be drier and brighter with some sunny spells, but also some showers. 
Tonight, any rain across England and Wales will fade to leave it dry overnight, but cloudy and there will be some clear spells for Scotland, but showers will develop in the east.
Tomorrow will be a showery day for eastern areas with winds picking up. It will be drier further west with spells of sunshine developing as the day goes on and the weekend looks brighter.
Daksh Gupta believes 500 car dealers could close in a year