Here's your business, motoring and news round-up for Friday, June 19
£1bn spending plan for children
The prime minister has announced £1bn spending plan to help school children catch up with their eduction in the wake of the coronavrius pandemic.

The scheme will see the most disadvantaged children in England given access to funds to pay for personal tutors, while the majority of the funding will allow schools to step in to cover lost teaching time.
It'll also mean the most disadvantaged children will have access to tutors through a £350m national programme for the 2020/21 academic year, to prevent the attainment gap from widening further. And a further £650m will be shared across state primary and secondary schools over the 2020-21 academic year to help children from all backgrounds.
Lockdown lifts in Scotland

Lockdown measures have been further relaxed across Scotland as the country moves into its second phase of restriction easing.
From today, some people can meet another household indoors without physical distancing in an 'extended household group arrangement', much like the 'bubbles' already in place in England. Other measures include non-contact outdoor activities such as golf, hiking and fishing.
However, dealerships were expected to be a part of phase two but have been lumped together with other 'non-essential' retail with the businesses opening on June 29. The SMTA (Scottish Motor Traders Association) expressed their disappointment while dealers reacted angrily, with one dealer calling the decision 'mad'. Read more
Government u-turns on Test and Trace app
The government has abandoned its own contact-tracing app and instead will focus on technology from Apple and Google that's already working.
While other governments around the world used Google and Apple systems from the get-go, the UK decided to develop its own which took three months to get up and running.
Officials said the government's app, which was being trialled on the Isle of Wight, was highly inaccurate when used on iPhones, only identifying around four per cent of contacts, while the Apple-Google framework recorded 99 per cent of all contacts.
People want to work from home
The majority of employees forced to work from home during the coronavirus lockdown have said they want to continue doing so, despite concerns about motivation.
According to a study of 4,002 adults, half of people are currently working remotely all or most of the time during lockdown, with 39 per cent among them who did not tend to work from home prior to the pandemic.
Among home working newcomers, seven in 10 said they would like to carry on working this way when the crisis is over. A similar number believe they can be as productive, but almost half said they struggled with motivation and 35 per cent complained of too many distractions at home.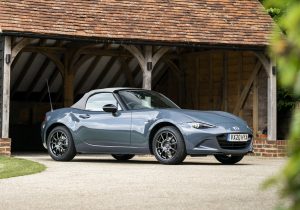 Mazda shows off new special edition MX-5
Mazda has revealed another MX-5 special edition.
Expected to be lapped up by die-hard MX-5 fans, the new R-Sport is limited to 150 cars and features 16-inch Rays alloys wheels, paint black door mirrors and a grey fabric roof. A new grey paint colour is offered as well as burgundy Nappa leather seats.
The R-Sport gets the 131bhp 1.5-litre engine and it costs £27,700.
Markets in the red
London's FTSE 100 dropped yesterday as some investors were disappointed by a Bank of England intervention designed to boost the economy.
The FTSE 100 closed down 29.18 points to 6,224.07, even amid a one per cent drop in the pound against the US currency, to 1.2425 dollars.
Earlier in the day the Bank of England (BoE) had pledged to unleash another £100bn quantitative easing (QE) round to boost the economy. But while some investors were expecting more, the BoE said it felt the economic contraction won't be as severe as initially predicted and the £100bn QE was the right thing to do.
Staycations expected to boom
UK-based summer 'staycations' are set to be the favoured way of holidaying this year, the RAC has found.
Just one-in-three drivers out of 3,200 people surveyed by the firm expect to undertake the summer holiday plans that they had set out prior to the coronavirus outbreak, with the majority of respondents expecting to holiday within the UK instead.
Demand for a summer break remains strong, however, with close to seven-in-10 of those who have had their holidays cancelled – or expect to be cancelled – still wanting to have a break if they can. Of these, a staycation within the UK is favoured by the majority with just 13 per cent still holding out for a trip abroad by plane. A further seven per cent plan to take their car across the Channel for a holiday if they can.
British explorer breaks world records
A British-American explorer has officially become the first woman to reach the highest and lowest points on Earth.
Vanessa O'Brien, 55, scaled the peak of Mount Everest in 2012 but has now travelled via submersible to the bottom of Challenger Deep, diving 10,925 metres below the waves of the western Pacific Ocean – a double feat which has been ratified by Guinness World Records.
She is the second woman to reach Challenger Deep after astronaut Kathy Sullivan, who was part of O'Brien's team, just days before.
Car Dealer Live: Auto Village's Paul Boyce will be joining us live on our YouTube channel at midday today.
Yesterday's round-up: DFD creates jobs; Costa reopens; McLaren marks Le Mans win; property bounces back
Want breaking news sent direct to your phone? Join our WhatsApp group. It is broadcast only, no chit chat, and delivers Car Dealer headlines to you as and when they happen. Send us a message here and ask to join, and we'll send you a link.
Download the latest digital edition of Car Dealer Magazine Issue 147 for free here.