Here's your business, motoring and news round-up for Sunday, June 28
Jaguar Land Rover in advanced cash talks with government
Jaguar Land Rover is reported to be one of just six large businesses in advanced talks with the government over bailout cash.
The Financial Times has reported the manufacturer is one of six 'strategically important ' businesses in talks over an injection of cash under a new scheme dubbed 'Project Birch' as they were not eligible to borrow cash under the existing rescue loan programmes.

Some of the loans could see the government take an equity stake in the businesses, which also include steel makers. Aston Martin and McLaren are not included in the talks. A JLR spokesperson told the FT that they are in 'regular discussion' with the government.  
PM to unveil spending blitz next week
The prime minister will announce a spending blitz this week as he looks to ready the country for the 'thunderclap of economic consequences' caused by the coronavirus pandemic.
Laying out his vision for the country's revival, Boris Johnson will use a speech on Tuesday to announce the creation of a taskforce charged with fast-tracking the building of schools, hospitals, roads and even prisons as the UK bids to find a way out of the downturn.

The PM told the Mail the country would 'absolutely not (be) going back to the austerity of ten years ago' seen under ex-Tory leader David Cameron, with multiple reports say Johnson is preparing to announce 'tens of billions' of pounds of investment.
Companies have hit rock bottom after months of shutdown
Firms have hit 'rock bottom' as a result of the economic lockdown and expect a slower fall in activity in the next few months, new research suggests.
The CBI said its study showed that private sector activity fell at its fastest pace on record in the three months to June, especially in consumer services.
Manufacturing output also continued to decline heavily, the survey of more than 900 firms indicated. A slower pace of decline is expected over the next quarter although businesses have concerns about being able to fully reopen, said the report.
Future Polestar vehicles will feature Waymo self-driving technology
Polestar has formed a strategic partnership with Waymo which will see the Swedish car maker's models fitted with its American partner's self-driving technology in the future.
The agreement has been signed between Waymo and Polestar's parent company Volvo Car Group, with the plan to integrate level four autonomy into the cars.
Level four requires a human to be present as fully self-driving capabilities might not be accessible in all driving situations – but it is very close to full autonomy.
Thousands locked out of bank accounts
Thousands of Britons have been left unable to use their bank cards after the Financial Conduct Authority froze the UK licence of Germany's Wirecard.
The FCA banned Wirecard Card Solutions Limited after a major accounting scandal at its German parent company. Financial tech firms Anna Money and Curve both told customers they would be blocked from their accounts after the FCA's decision.
Both said that customers' money is still safe, but will not be accessible for a time.
Marston's warns outlook remains uncertain 
Pub group Marston's has said its short-term financial outlook remains 'uncertain' despite plans to reopen the vast majority of its pubs next week.
The Wolverhampton-based business, which runs 1,400 pubs, said it hopes to reopen between 85 per cent and 90 per cent of its English pub estate from July 4.
It came as the pub group said it took a £40m hit to revenues for the half-year to March 28 after shutting its pubs following the government-mandated lockdown. Revenue fell to £510.5m and it made a pre-tax loss of £33.2m.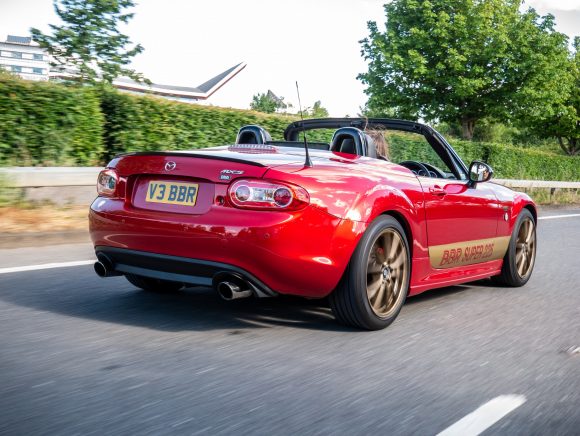 BBR announces new tuning package for Mazda MX-5
UK-based tuner BBR has announced a new performance package for the Mazda MX-5 which helps to ramp up the roadster's performance.
Called the Super 225 package it boosts power pushed out by the car's 2.0-litre engine to 224bhp – a significant rise on the 181bhp output of the standard MX-5. Torque also goes up to 236Nm, rising by 49Nm over the standard car.
Prices start at £3,495 for the components on their own, rising to £4,295 for them to be fully installed at the firm's headquarters in Brackley.
Little to cry over as Boohoo chiefs given £150m incentive
The brains behind online fashion retailer Boohoo could be in for a giant payout if business continues to boom, the company has revealed.
In a bid to ensure that its bosses are 'motivated', the board approved a package that could see up to £150m paid out to the company's two founders, and one of their sons.
Bosses have until June 2023 to reach a market value of £7.55bn, from around £4.5bn today to get the £150m payout. If they hit £6.3bn, they'll get a £50m payout instead.
Car Dealer Live this week
Monday Mercedes-Benz Vans MD Steve Bridge
Tuesday Peter Smyth, Swansway Garages
Wednesday Vanarama CEO Andy Alderson
Thursday Sanj Kumar, NK Motors
Friday Tom Blackmore, Divine Automotive
Yesterday's round up: Foreign holidays allowed; Final Mulsanne made; Shopping centre administration