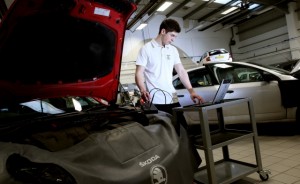 THIRTY-year-old Skoda master technician Darren Quibell has been ranked third in the world at the Skoda Service Challenge in the Czech Republic.
Quibell, who works at Lincoln Skoda dealership Dennis Horton & Son, was named best-in-class at the UK Service Challenge Final, held at the Volkswagen Group National Learning Centre at the end of last year, and went on to represent the UK in the global finals.
Following a series of five practical and theoretical tasks designed to test knowledge, ability and skills, he was awarded third place worldwide in the master technician category. The Skoda Service Challenge, which is open to all Skoda servicing personnel, is now in its sixth year.

Quibell said: 'I'm absolutely delighted to have been awarded third place in this year's international finals. To win in the UK for the third time running was a real achievement, but to represent my country was an honour.'
Warren Richards, head of service and parts operations at Skoda UK, said: 'The Service Challenge allows Skoda employees to demonstrate their technical abilities and is great feedback for us to see how our people are performing. We'd like to congratulate Darren on his fantastic achievements this year.'
MORE: Have you been affected by the MOT meltdown?
MORE: Warrantywise announces aftermarket cover for EVs

MORE: Up-to-date data is good news for everybody
On SuperUnleaded.com: Want to buy Steve Jobs' BMW 3 Series?