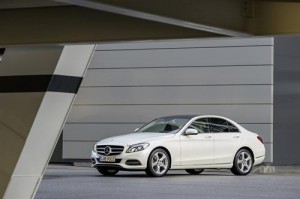 MERCEDES-BENZ is recalling 28,000 C-class saloons worldwide and more than 8,000 of the models in the UK because of a steering fault.
Of the 8,145 cars built in the UK up to September 22, some 5,500 are with customers but the rest are in car dealers' showrooms.
The fault is with the steering column coupling lock and Mercedes-Benz has said this could be because they weren't installed correctly. It has advised owners to contact their local dealership for the work to be carried out free of charge.

A Mercedes spokesperson told the Daily Mail: 'If the steering column coupling is unlocked, the worst that can happen is that you will hear a noise. There have been no reports of steering problems.
'We're not telling people to stop driving their cars. It's a 30-minute fix to click the steering coupling's locking sleeve back into place. Some were not clicked into place at the factory.'
VOSA has commented: 'It is possible that the steering column coupling lock may not have been installed correctly. The driver will receive warning of the issue by noise.
'In extreme circumstances, it is possible that steering control of the vehicle could be affected.'