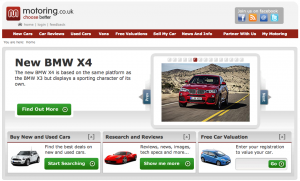 MOTORING.CO.UK has reached over a million unique visitors in a calendar month and is now the largest privately-owned automotive portal in the UK, outside of the large publishers. 
Terry Hogan, co-founder of Motoring.co.uk, comments: 'We are delighted with the growth in traffic which is a reflection of our constant innovation.
'We have built a strong and loyal community of new and used car buyers and owners and have invested heavily in rich and engaging content. Motoring.co.uk is becoming a destination for new and used cars, throughout the lifecycle of the user and their car.'

Motoring.co.uk is the largest independently owned automotive website in the UK and has an active community of more than 1.7 million registered motorists, which is growing at a rate of over 50,000 fresh car owners subscribing every month.
More than eight million unique in-market consumers visit the Motoring.co.uk website annually, delivering over 120,000 new and used car leads.