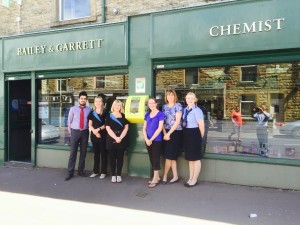 MOTORPOINT has helped install a defibrillator for community use in Burnley, Lancashire.
The car supermarket, which has been based in East Lancashire since 2000, worked with the North West Ambulance Service to have a public-access defibrillator fitted outside the Bailey & Garrett Chemist in Rosegrove Lane.
The North West Ambulance Service also provided training for staff at the chemists on how to use the lifesaving piece of equipment in the event of an emergency.

The move follows the decision by Motorpoint Burnley to fit its own public access defibrillator onsite.
Every year, 30,000 people suffer cardiac arrests outside of hospital. Every minute without access to defibrillation reduces someone's chance of survival by 10 per cent according to the British Heart Foundation.
Amanda Scott, business support manager at Motorpoint Burnley, explained: 'We were speaking with the North West Ambulance Service about having a defibrillator onsite at Motorpoint and asked whether it would be possible to also have one for local residents in Rosegrove Lane.
'The North West Ambulance Service readily agreed and after speaking with Bailey & Garrett Chemist, we had it fitted a couple of weeks ago.'

Cheryl Pickstock, chain of survival lead for Lancashire at the North West Air Ambulance Service, added: 'We're delighted to have worked with a high-profile local employer like Motorpoint to provide the residents of the Rosegrove Lane Area with a public access defibrillator.
'It has the potential to quite literally save lives and it's a public/private partnership that we'd like to see more of in the region.'
MORE: We're on the lookout for more dealers, says MG
MORE: Kia celebrates record sales figures across Europe
MORE: Peugeot RCZ drivers' day takes a romantic twist – when couple get engaged!
On SuperUnleaded.com: Fiat 500 with wicker seats? That will be £57,000 please