EMERGING technologies mean premium models are now becoming more unreliable than volume cars, according to J.D. Power's UK vehicle dependability study.
The company's data, which is based on responses from 13,536 vehicle owners, shows that technology woes are continuing to be common for owners after one to three years, with issues around Bluetooth connectivity and voice recognition placing among the six most common problems in the study.
Motorists are still worrying about engine and transmission problems, as these tend to be the most expensive and dangerous. Despite advances in technology, the most commonly reported issue is vehicles failing to start.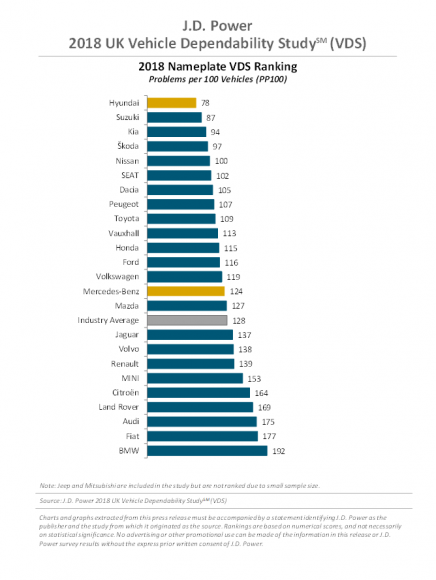 Of the brands identified in the study, Hyundai was the most reliable, with a score of 78 problems per 100 vehicles (PP100). The South Korean brand was followed by Suzuki with 87 PP100 and Kia with 94 PP100.
At the other end of the scale, BMW ranked as the most unreliable, with 192 PP100, followed by Fiat with 177 PP100 and Audi with 175 PP100.
Of the respondents who experienced no problems with their vehicle, 54 per cent said they 'definitely will' buy or lease the same brand again, while only 37 per cent of owners who experienced one of the top 10 most severe problems said the same.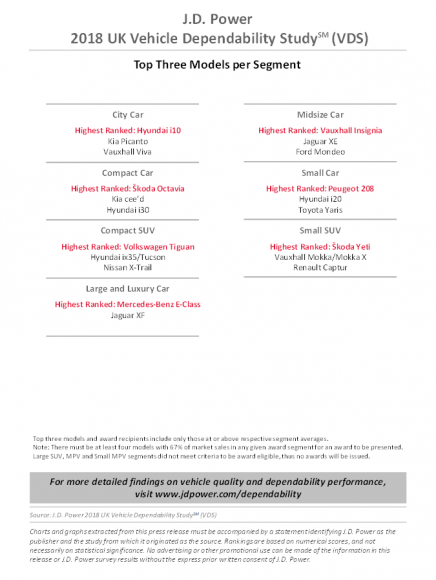 Josh Halliburton, head of European operations at J.D. Power, said: 'Automotive systems are more complex than they've ever been and premium brands especially are incorporating autonomous driving building blocks – adaptive cruise control, lane keep assist, automatic braking – into their models.

'It's imperative for manufacturers to address this issue in order to improve the level of consumer trust in the technology.'
MORE: Dealers 'must be up to date with technology to draw in younger customers'
MORE: Safety, reliability and trust ahead of pricing, says AA survey
MORE: Honda tops reliability survey involving more than 30,000 drivers
On WorkshopMagazine.co.uk: Salvage yard flies the England flag for patriotic airline passengers