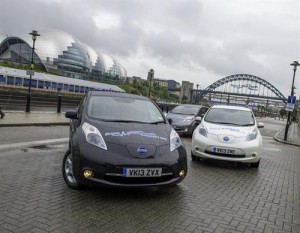 NISSAN is leading a consortium which aims to establish a network of rapid chargers for electric vehicles running the full length and breadth of the UK and Ireland.
When complete, a total of 74 rapid chargers will have been installed, covering more than 680 miles of major trunk routes and providing EV-friendly links to five seaports and five international airports.
The project, named Rapid Charge Network (RCN), was presented at the Trans European Transport Network (TEN-T) event in Tallinn, Estonia. The country is the first country in the world to open a nationwide EV fast-charging network.
Funding for the Rapid Charge Network (RCN) project is being led by Nissan and is co‑financed by the European Union through the TEN-T programme, with further contributions from fellow consortium members Renault, BMW and Volkswagen and ESB Ireland's Electricity Supply Board. It also draws on the network expertise of Zero Carbon Futures and Newcastle University.
Olivier Paturet, general manager Zero Emission Strategy & Corporate Planning, said: 'Nissan is delighted to be leading this important initiative. The UK's Rapid Charge Network will provide a vital sense of security for all EV drivers as well as helping to promote the advantages of zero emission mobility to others.'
Running on two priority road axes on the mainland, the network will link major ports and cities including Stranraer, Liverpool, Holyhead, Birmingham, Felixstowe, Leeds and Kingston upon Hull with connections to existing networks in Dublin and Belfast in Eire and Northern Ireland.