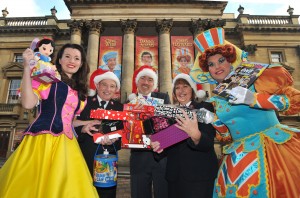 JENNINGS Motor Group teamed up with stars from a local pantomime to help promote The Salvation Army's Christmas Appeal in the north-east of England.
The appeal, which is in its 35th year and the largest of its kind in the area, was set up with the aim of providing gifts to the most vulnerable people in the region who would not normally receive a gift on Christmas Day.
For the past 16 years, Jennings Motor Group has supported the appeal by using its Ford, Kia, Mazda, SEAT and this year the company's newly-launched Mitsubishi dealership, as 'drop-off' and 'collection' points for gift donations.

And this year they teamed up with performers from Newcastle Theatre Royal's hit pantomime Snow White and the Seven Dwarfs to push the appeal.
Gill Bedford, divisional director for community services at the Salvation Army, said: 'Our Christmas present appeal makes a big difference to hundreds of people across the region every year.
'Just one present can make a real difference – in this day and age, no-one should be forgotten at Christmas – no matter what their age.'
In addition to making a £1000 donation to the appeal, Jennings Motor Group has also been encouraging staff, customers and members of the public to make a donation of gifts for children, teenagers and the elderly.

As in previous years, The Salvation Army will not only be assisting Local Authority Social Services departments, but also many other professional statutory agencies who refer local families and those who are known to be in considerable hardship.
MORE: Average dealer made £5,000 during October, says ASE
MORE: Volvo to shun some of the world's top motor shows in 2015
MORE: Motorpoint all set for post-Christmas opening in Widnes