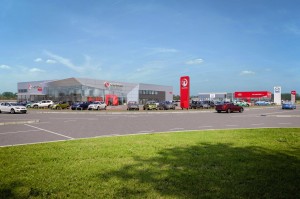 Perrys has started work on a new £7 million dealership in Preston.
Construction has begun on a state-of-the-art dealership in Bluebell Way, next to the M6, which will display more than 300 Vauxhall, Mazda and Kia cars.
The plan is for the showroom to be open for business in April next year, and it is expected to an additional 21 jobs. All 91 staff at the current dealership will maintain their roles.

Perrys Preston's current development in Blackpool Road, the home to the existing Motor Village, will ultimately be redeveloped.
MORE: Celebrate the used-car industry with us at our Used Car Awards – have fun and meet up with old friends
MORE: CitNOW Video Awards winners announced
MORE: Family firm joins Renault-Dacia network

MORE: Brayleys expands with second Kia dealership
On Superunleaded.com – Man Doesn't Like The Police, Jumps Up And Down On Their Car