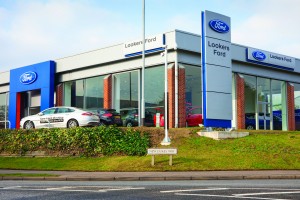 MOTOR retailer Lookers today reported that profits powered ahead during 2014, as the buoyant car market boosted its sales and servicing businesses, as well as its thriving parts operation.
And the Manchester-based group, which represents manufacturers such as Volkswagen, Ford, Honda, Kia and Nissan across its portfolio of 123 dealerships, said it was confident of further progress during 2015.
Profits leapt from £43.9 million in 2013 to £59.2 million in the 12 months to December 31, 2014. And revenues rose by almost a quarter to £3.04 billion from £2.46 billion.

Pre-tax profits in the motor division rose 37 per cent year-on-year to £58.3 million.
And the positive results come shortly after the company paid out a record £3.8 million to its employees through its share scheme.
Lookers chief executive Andy Bruce said the firm had raised its annual dividend by 10 per cent to 2.84p per share.
He added: 'The motor division has produced an excellent result and the parts division has made good progress, delivering a strong performance in improving but competitive market conditions.

'Lookers is well placed to take advantage of future growth in the new and used car markets as well as increased demand for aftersales and parts. This gives us further confidence that we can continue to grow the business in 2015.'
Lookers reported that new car sales volumes rose 9.7 per cent in 2014, slightly ahead of the 9.3 per cent increase in total UK new car registrations. Gross profit per unit increased by 4.6 per cent on new retail cars. Used car sales volumes rose 4.4 per cent.
Aftersales revenue went up by 5.3 per cent on a like-for-like basis. Parts division revenue increased by four per cent to £8.4 million.
Chairman Phil White reported that the new financial year had started well, with group results to date being 'in line with expectations'. He said he was 'confident of delivering further growth in 2015'.
MORE: Vantage Motor Group acquires its first Skoda dealership
MORE: City Auction Group improves Rockingham facilities ahead of its next sale
MORE: Another record year lies ahead according to Whatcar.com statistics