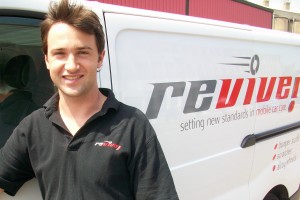 A BEDFORDSHIRE branch of the cosmetic vehicle repair specialists Revive! hit a monthly turnover of £60,000 in October, the highest ever achieved across the UK-wide franchise network.
October is especially busy for cosmetic vehicle repair specialists, due to the influx of cars to dealer groups following September's release of new-registration number plates.
However, the owner of the Luton franchise, Adam Smith, pictured, expects to maintain sales at this level over the coming months and forecasts further growth for 2015.

During the past year, the business has invested in two new Smart repair vans as well as recruiting and training two new repair technicians. It now has a total of eight vans, including one which specialises in wheel repairs. The office base was also expanded in 2014, creating more space for stockholding and business administration.
In 2015, Smith intends to further extend the fleet.
Revive! Luton was established in 2009 and has grown by around 32 per cent year on year since then. Smith recently re-signed his franchise agreement for second five-year term.
He said: 'With its scalability, the Revive! model offers a robust path to success if you are prepared to work hard and think big.

'The business set-up works, but it's up to the franchisee to ensure it reaches its potential. We have a really talented, loyal team here in Luton, and I'm looking forward to the next five years in the business.'
Revive! specialises in repairing minor scuffs and scrapes to vehicle bodywork and alloy wheels. Customers include car dealerships, manufacturers and private motorists.
MORE: 2,700 garages sign up to RAC's new comparison site 
MORE: Infiniti takes control of UK showrooms