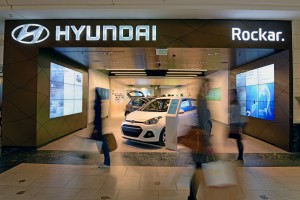 ROCKAR'S digital Hyundai store in Kent's Bluewater shopping centre has recorded 'impressive' sales figures in its first spell of trading.
Over the first 10 days of being open for business, Rockar recorded 3,500 visitors to the store and 6,500 visits to its website. Forty-two test drives took place on the very first working day.
Although unwilling to be specific, Hyundai told Car Dealer that so far orders had been strong – particularly where its i10, i20 and i35 models were concerned. The cars bought in the first batch of orders have been reaching their owners this week.

Chris Overall, product and corporate PR manager for Hyundai UK, said: 'We're not going to be releasing any figures yet because we want to give the shop a fair chance but we're really impressed with how it's going.
'They've sold a good number of cars and a broad range of models so far.'
As previously reported in Car Dealer, Rockar Hyundai provides buyers with an online and in-store service where they can research, test-drive and trade in their old car. The store doesn't have salesmen but 'Rockar angels' who help customers purchase a car without 'selling' to them.
Meanwhile, it was also announced this week that investment management and corporate advisory business Seneca Partners, based on Merseyside, has bought a £1m stake in the Rockar integrated business model.

Richard Manley, director at Seneca Partners, said the business model 'meets perfectly the two big trends in car retail'.
He told the Liverpool Echo: 'The overwhelming majority of buyers now do all their research online, and many are intimidated by conventional dealerships.'
MORE: Digital decisions: The futuristic dealership with NO salesmen
MORE: Digital dealership Rockar Hyundai opens in Bluewater
MORE: Tesla embraces the Midlands with latest store in Birmingham