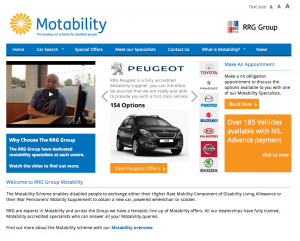 DEALER group RRG has launched a dedicated Motability site for its customers in the region, to raise awareness of this government-funded scheme to improve mobility for disability sufferers.
Aimed at those with disabilities in the region, and their families and carers, RRG has created the dedicated Motability site – www.rrgmotability.com.
The site provides in-depth information about how the Motability team can help people to avail of a brand new car with lots of added benefits, as part of their disability mobility allowance, taking them through the makes and models available, so they can select the car that's right for them and their needs.

RRG said they will work with customers and take the hassle out of getting their ideal car for their needs.
As part of the scheme RRG Group provide a range of models across seven manufacturers – Kia, Mazda, Nissan, Peugeot, Skoda, Suzuki and Toyota  – and offer a large number of benefits in their Worry-Free Motability Package including – among other benefits – insurance, servicing and maintenance, replacement tyres, free road tax and many adaptions to the car at no extra cost.
Keith Ashton, one of more than 30 RRG Motability specialists, said: 'We created this dedicated site as many of our customers were unaware that this scheme exists.'