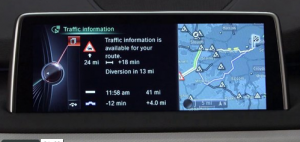 HOW long will it be before EVERY new car is fitted with sat-nav as standard?
At the moment, on most base models it's an option – and sometimes a pretty expensive option.
But BMW has thrown down the gauntlet by announcing that from September, BMW Navigation will be included as standard equipment across the range.

From July, the BMW 2 Series Convertible and 2 Series Active Tourer will receive navigation as a standard feature. In addition to this, the BMW Z4 range will receive BMW Professional Navigation also from July production onwards. In September going forwards, the BMW 1 Series range and 2 Series Coupé will include navigation as standard.
This will mean every BMW offered for sale in the UK will come with navigation as standard by the end of 2015.
The Munich manufacturer will be the only company to offer navigation as standard across such a broad range of market segments. It already features as a standard feature DAB radio and Bluetooth with audio streaming.
Jeff Knight, the forecasting editor of cars for CAP, said: 'BMW introducing navigation across its entire model range is a first for any mainstream manufacturer in the UK and will inevitably pave the way for others to follow.

'On-board navigation systems now offer so much more technology than previously seen with the likes of 2D and 3D navigation map displays, traffic information and, particularly with BMW, standard e-call functionality which is a key safety feature. As well as having standard navigation across the range all BMW models will see an improvement on their residual value from between £300 to £600 (model dependant) so this is good news all round.'
MORE: Line-up for conference's Manufacturer Q&A panel is revealed
MORE: Advice and guidance from the IGA at Car Dealer Conference & Automotive Expo
MORE: FREE legal advice from Lawgistics at Car Dealer Conference & Automotive Expo #CDX15
MORE: Crucial issue of data security will be in the spotlight at the Car Dealer Conference & Expo
On superunleaded.com – Traffic Warden Slaps Ticket On Taxi, Despite It Being Broken Down