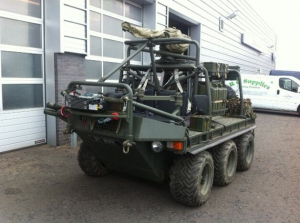 A YORKSHIRE dealership welcomed an unusual visitor yesterday – a menacing-looking military vehicle which has even been to war!
The six-wheeled Supacat, a high-performance defence vehicle with a 1.9-litre Volkswagen industrial engine, was taken to JCT600's VW Van Centre in Sheffield to have a problem attended to.
Steve Kirby, aftersales manager for JCT600, said: 'The customer popped in last week to see if we could help with a lack of power on the Supacat, a defence vehicle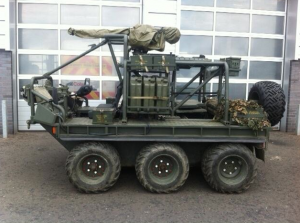 which is complete with its original Volkswagen engine and even has a mounted 50-calibre machine gun. The owner even has the vehicle's complete history of military service.

'Apparently, there are only ten of these vehicles in the country, so our master technician was keen to take a look and get to the bottom of the problem.
'We've never had a vehicle like this in the workshop before, but being a Volkswagen engine, we're confident that we'll be able to get the Supacat up and running again.'
Had anything unusual visit your dealership and want to get it featured? Get in contact by posting your comments below.