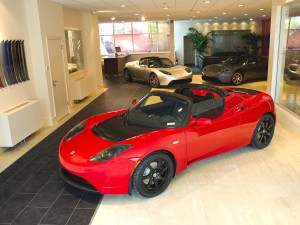 ELECTRIC CAR maker Tesla is hitting roadblocks in expanding its presence in the US – with many states' laws currently forbidding the way the firm sells its cars.
Rather than offering dealership franchises out to individuals – as in line with the methods used by traditional car manufacturers – Tesla sets up its own store fronts, selling its Roadster and Model S electric vehicles directly to customers with no middle man.
The move away from franchising out dealers, says Tesla, comes down simply to the niche nature of its products. Few US dealers could afford to fund the franchise of a new manufacturer – particularly for such a new company with a relatively low volume of cars – so the most logical option is to sell cars directly from the manufacturer.

Unfortunately for Tesla, this Apple-like approach to retailing isn't looked kindly upon in the US – with states requiring that dealerships simply cannot be owned by manufacturers for the sake of unfair competition.
The argument of Tesla's CEO, Elon Musk, is that the firm isn't actually violating any laws at all. As the firm has no franchised dealers whatsoever, Tesla can in effect not compete with any of its dealer network whatsoever – the entire purpose of the law.
Many US-based dealers disagree, however – perhaps eyeing Tesla's direct-to-customer sales as having the potential to open the floodgates for other manufacturers to do the same. In fact, numbers of dealers have gone to the extent of suing the firm over its plans, with a number in Texas, New York, Arizona and more all taking Tesla to court over the premises.
In some cases, Tesla has won – challenging age-old laws about the ways its ultra-modern cars can be sold.  Where it hasn't been successful though, it's started to take a different approach: turning some of its stores into 'galleries' instead.

Jumping through a bizarre legal loophole, these are in effect dealerships without any sales – with customers free to look around the cars, but staff forced to direct buyers to the Tesla website if and when they want to purchase.
So far, Tesla has won a handful of cases – a New York judge found in favour of the firm last month, while Texas is currently weighing up whether to allow the sites. Neither Arizona nor Virginia have been so forgiving, however – both banning direct-to-customer sales of Tesla's cars so far.
Have you filled in our Car Dealer Power survey yet? It's a great opportunity to have your say, and you could win one of seven great prizes! Click here to enter.