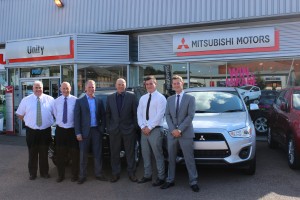 A NEW Mitsubishi dealership has arrived in Cambridgeshire. Unity Mitsubishi has opened in Newark Road, Peterborough, and the man in charge of the operation is convinced a bright future lies ahead.
Jon Mathers, owner and managing director of Unity Automotive Group, is sure that with Mitsubishi's great line-up of vehicles, and his company's dedication to first-class customer service, the new venture will be a success.
Unity's Peterborough site is one of three in the company's portfolio. The other two outlets are in Coventry and Tredington, Warwickshire. As well as Mitsubishi, the Peterborough site represents Isuzu and SsangYong.

Mr Mathers is delighted by his company's new partnership with Mitsubishi, the fastest-growing car manufacturer in the UK. And he can't wait to start welcoming customers old and new to the spotless new showroom in Newark Road.
He said: 'Mitsubishi's performance has really caught our attention this year and we're delighted to be representing the brand. From our perspective, adding Mitsubishi is a very comfortable fit.
'I'm surprised it has taken so long for it to happen actually. We're used to selling pick-ups and four-wheel-drive vehicles and the whole Mitsubishi range really is one to shout about. As well as the bigger cars, the new compact car Mirage is hugely exciting and offers great value for money.'
The Unity Group is joining Mitsubishi at an exciting time. As the country's fastest-growing manufacturer so far in 2013, sales are running 46 per cent ahead year-on-year.

Lance Bradley, Managing Director of Mitsubishi Motors in the UK, said: 'We are delighted to welcome Jon Mathers and his team to the Mitsubishi family. We naturally wish the business every success.'
Our picture shows Jon Mathers, third from left, with the Unity Mitsubishi team.