Mike Brewer, host of the Car Dealer Used Car Awards and TV's Mr Wheeler Dealer, gives us his top 10 favourite Fords – from the Model T to the Focus RS
It's undeniable that Ford has had a huge part to play in the world of motoring, with so many incredible cars in its history that could be chalked up as icons.
For us Brits, the name conjures up images of Dagenham, Essex boys in Escorts and, of course, performance Fords brandishing that famous RS badge.
The company was set up by Henry Ford in Detroit, Michigan, in 1903. He began making cars, or 'quadricycles' as he called them, in his home in 1896, but it would take a few years to set up the company we have today – first called Ford and Malcomson.

A lot of people confuse Henry Ford with having invented the motor car but that was actually Karl Benz, although others had played around with the idea before. Ford, however, was a key player when it came to mass production and the world of motors we have today – managing to get a Model T built in just a few days back in 1908!
Since then, the focus of the car maker has always been to offer car ownership that's practical and affordable. It's a formula that's worked, making it one of the biggest car companies in the world.
Ford Model T
(1908 – 1927)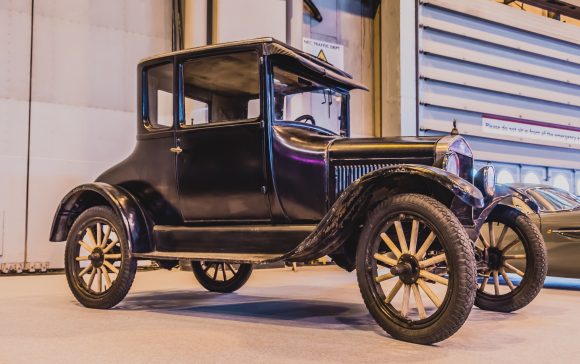 The car here is actually one of my own projects! It was completed as part of a competition between me and Ant Anstead – and isn't it a beauty?

The Model T was what helped Ford perfect the assembly line and mass production, and by 1913 it could be assembled in under 13 hours. By the end of that year, he'd reduced this to below three. In total, an incredible 15m were produced!
Price: circa £15,000
Ford Sierra RS Cosworth
(1986 – 1992)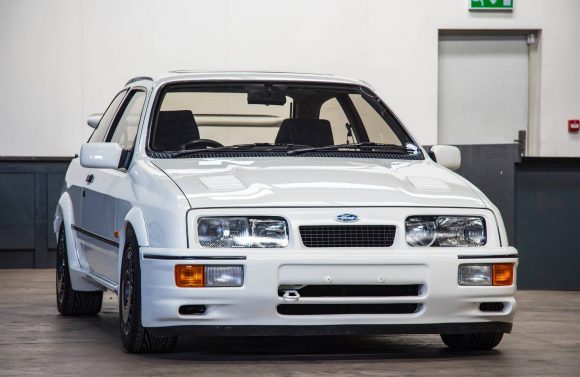 Few car names generate as much excitement as the Sierra RS Cosworth. This legend was capable of hitting 60mph in 6.5 seconds and achieving a top speed of 149mph.
Under the aggressively vented bonnet sat a 2.0-litre engine with a turbocharger and fuel injection pushing power to 201bhp.
The large rear wing – or 'picnic table' – which was installed following wind tunnel and high-speed testing received resistance from Ford management, but the designer insisted that it stayed. It's now one of the most iconic modifications in automotive history.
I found one for sale here on Motors.co.uk which looks lovely!
Price: circa £90,000
Ford GT40
(1964 – 1969)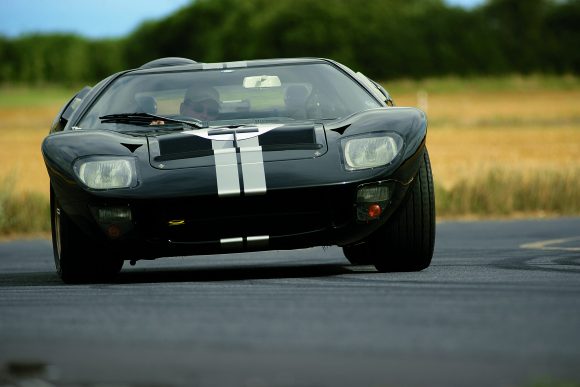 If you're into your racing, then there has to be a place in your heart for the GT40. It was designed
to win the 24 Hours of Le Mans, and boy did it do that.
However, it faced some serious problems to start with – such as trying to take off when it went over 170mph – and it never completed its first three races.
Introduce Carroll Shelby into the mix, though, and suddenly everything started slotting into place. In 1965 it scored its first win, and from there the trophies kept coming.
Price: circa £9m 
Ford Escort RS Cosworth
(1992 – 1996)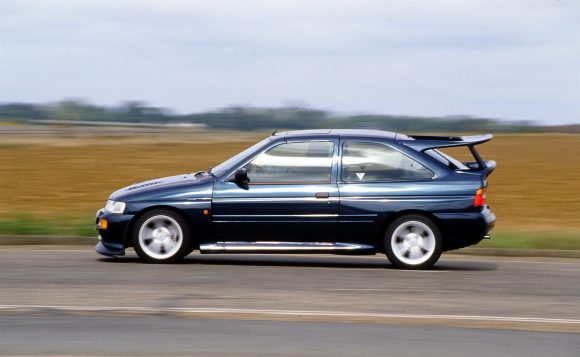 The Escort RS Cosworth was the result of a partnership between Ford and automotive engineering company Cosworth.
What that union created became widely regarded as one of the best-handling Ford RS cars ever.
Under the bonnet sits a 222bhp 2.0-litre turbocharged engine with permanent four-wheel drive, resulting in excellent grip – it could accelerate from 0-60mph in 5.8 seconds, making it as fast as a contemporary Ferrari, while the top speed was 147mph.
Price: circa £50,000
Lotus Cortina
(1963 – 1966)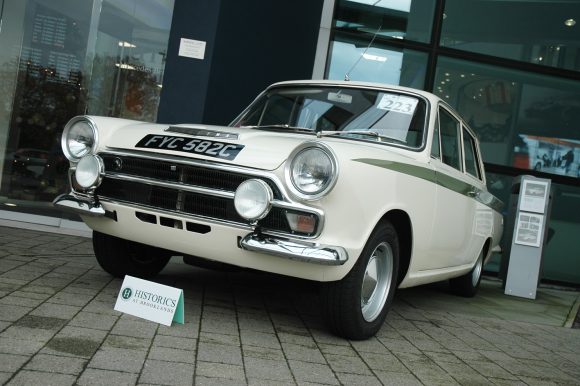 While the Cortina was designed as a family car, Ford soon started adding more performance – upping the 997cc engine to 1,498cc for the Super then tuning this from 60bhp to 78bhp for the GT.
It was the Lotus Cortina that really changed the game when, in 1961, Colin Chapman was asked if he would fit one of his engines to the car. Power came from a 1,557cc twin-cam engine producing 105bhp!
Price: circa £55,000
Ford Mustang
(1964 – present)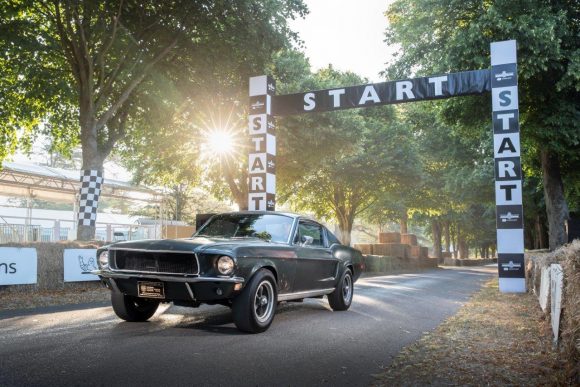 It's the original pony car – but it wasn't pony at all! If you're imagining road-tripping across the USA or a car chase scene, you're probably thinking of a Mustang.
It was the sports car that people in America could afford, because it didn't have all of the muscle but enough striking looks and a desirable V8 growl. And it got its own celebrity status too, featuring in many films – from Goldfinger to Bullitt.
Price: circa £30,000 
You can see the latest prices of Mustangs with 100 listed for sale here on Motors
Ford Popular
(1953 – 1962)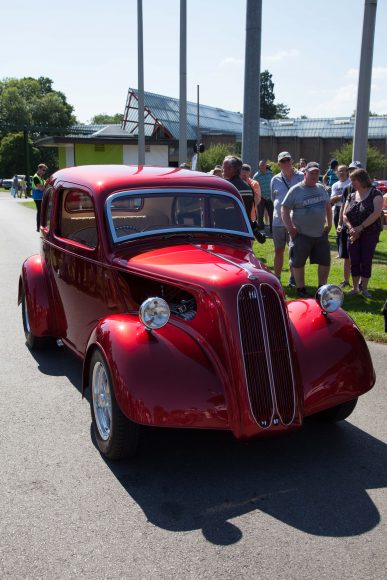 The Popular was a direct descendant of one of the first cars to be made at our very own Dagenham plant after the Second World War – the Model Y, which was (and still is) the cheapest saloon ever sold at £100.
Although it started its life as the epitome of practical and cheap motoring, it's now beloved by the hot rodders of this world – and to see one, as pictured here, is a serious rarity!
Price: circa £4,000 
Ford Fiesta
(1976 – present)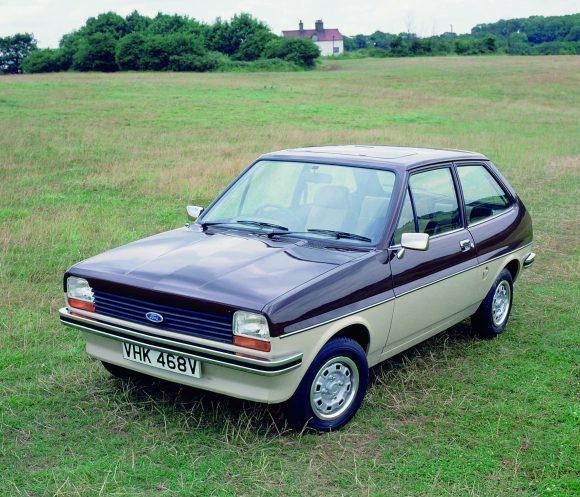 To this day the Fiesta is still the best-selling car in the UK (usually!), and throughout its 40-plus years on sale it has been a firm favourite in households. However, for me, the original remains the best.
It was given its name because it was made in Valencia, Spain, and we just couldn't get enough of them. It took five years for Ford to pump some more performance into it, adding a 1.6-litre engine plus stiffer suspension – and the XR2 was born.
Price: circa £8,000
Ford Escort
(1968 – 2000)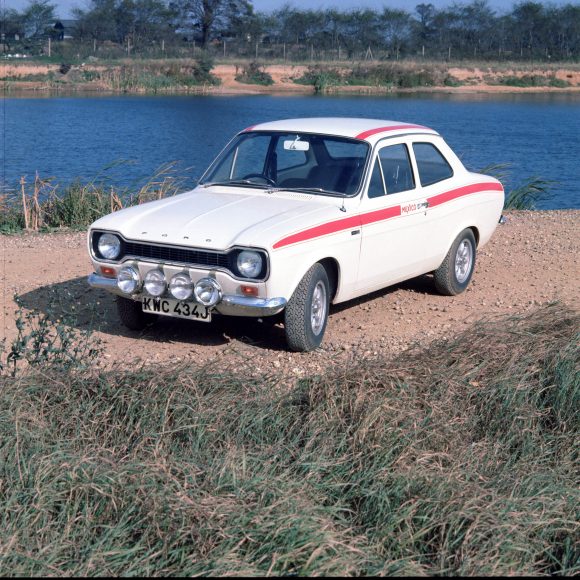 It was 1968 when the Blue Oval introduced the icon that is the Ford Escort. It followed a winning formula of being small but spacious enough for the whole family and was affordable, becoming the first Ford outside of the USA to surpass two million produced.
However, it was its ability on the rally stage that really made people fall in love with it! It was practically unbeatable in the late-1960s and 1970s, leading to the creation of the amazing Escort Mexico.
Price (early models): circa £35,000
Ford RS200
(1984 – 1986)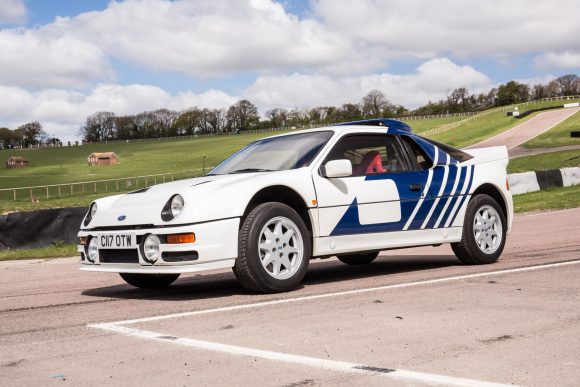 Some of the coolest cars ever made have come from the need to homologate vehicles for motorsport, when car makers have to build a certain number of models for it to be eligible to race.
The RS200 is a fantastic example of that. Ford wanted to dominate rallying, so it came up with a mid-engined, four- wheel-drive sports car to do just that for the 1984 Group B season.
To make it eligible, it needed to sell 200 of them to the public. Power came from a turbocharged 1.8-litre engine making 250bhp and a top speed of 142mph, with rally-spec models making between 350 and 450bhp. It could go from 0-60mph in five seconds flat!
Price: circa £250,000
Ford Focus RS
(2002 – 2018)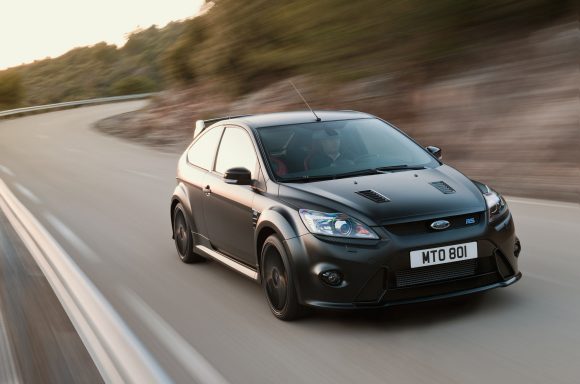 The Ford Focus might not set your heart on fire, but it has been a mighty success since its launch in 1998 and its performance versions have continued to be high on the lists of boy racers.
When it first got the RS badge in 2002 it was available as a limited run, with the front-wheel-drive car powered by a 2.0-litre 16-valve engine with 212bhp and a top speed of 144mph.
As the years went on, the RS got wilder, with the next generation featuring 225bhp. My favourite, though, was this – the mega RS500. I had a little look around online and couldn't find many RS500s, but I did find this one that looks nice.
Price: circa £25,000
Ford Anglia 105E
(1959 – 1967)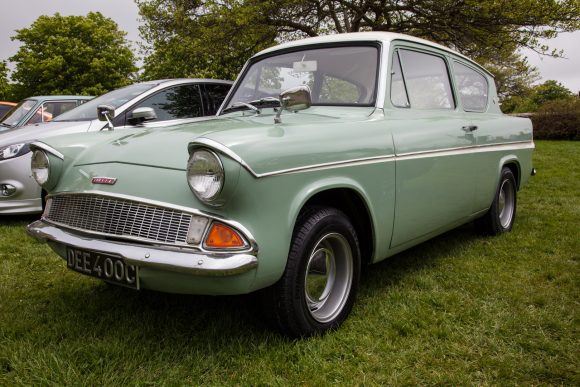 Although the Anglia name was used on many Fords, this is one of the most iconic. The Ford Anglia followed on from the Popular, with more modern luxury and adding some stylish design.
It was eye-catching at the time but on today's roads it would stick out like a sore thumb! There were clear hints of the USA's curvaceous and flashy motors here but with much smaller proportions to suit Britain's roads.
Price: circa £6,000 
Ford Capri
(1968 – 1986)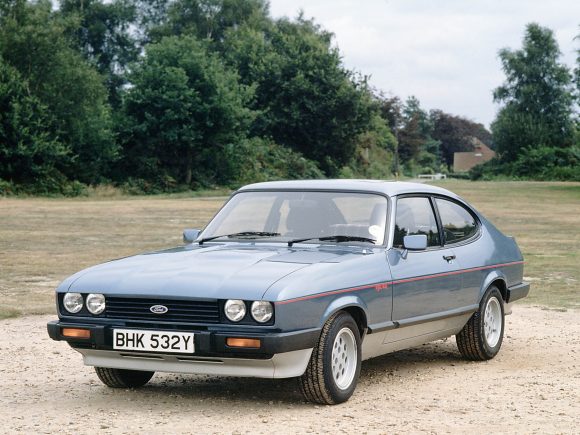 Following on from the Mustang's success in America, Ford gave Brits the Capri. It always had appealing sports car looks but – in the early days at least – it didn't necessarily have the performance to go with it.
Fortunately, the Blue Oval's motorsport division wanted to race one and built a 2.6-litre-engined RS2600. Ford then upped the game again with the RS3100, which boasted a Cosworth-tuned 3.1-litre V6 with 148bhp. It could hit 60mph in 7.6 seconds!
Price: circa £25,000 
Read more Mike Brewer features for Car Dealer here
Read more Used Car stories here