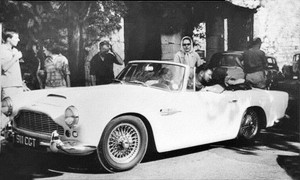 BONHAMS' 16th annual Aston Martin Works Sale set a new record for the event, achieving £10,280,275, the company reported.
An 1966 Aston Martin DB5 Convertible in 'Vantage' specification was the highest priced car of the sale, selling for £1,524,700.
Adding a dash of Hollywood sparkle to the event, an ex-Sir Peter Ustinov 1962 DB4 Series IV Vantage Convertible, sold for almost the same amount at £1,513,500.

The largest auction in Bonhams' 16-year history at Aston Martin Works, the sale featured more than 50 cars and 170 lots of automobilia.
Further sale highlights included the most famous of all 'James Bond' Aston Martins, the 1964 Aston Martin DB5 4.2-Litre Sports Saloon, at £595,100; the 1968 Aston Martin DB6 'Mark 1' Volante at £561,500; and the 1960 Aston Martin DB4 'Series 1' Sports Saloon selling for £494,300.
A Bonhams spokesman said: 'As pioneers of the single-marque sale, we've returned to the Works Service here in Newport Pagnell for another great auction, exceeding all previous year's totals, with £10.3 million of motor cars sold.
'The quintessentially British marque of Aston Martin attracts interest from enthusiasts across the world, a fact demonstrated here today as we took bids from all corners of the globe.'

Paul Spires, commercial director at Aston Martin Works, said: 'This Aston Martin Sale has been another hugely memorable occasion.'
Our picture shows Sir Peter Ustinov in the 1962 DB4 Series IV Vantage Convertible.
MORE: Ford Mustang already sold out as Brits go V8 crazy
MORE: April registrations hit a 10-year high
MORE: Duo planning to find new jobs for ex-Carcraft employees