THE AA Garage Guide, an online search and booking platform, has announced strategic partnerships with both the Institute of the Motor Industry (IMI) and Motor Codes.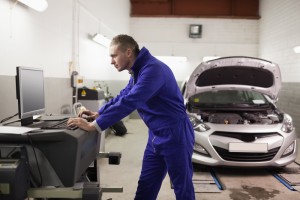 According to the AA, the partnership between the three organisations is designed to help steer motorists towards dealers and garages that consistently deliver high service levels to customers, improving national industry standards for both trade and retail buyers.
Motor Codes is the government-backed, self-regulatory body for the motor industry, with thousands of voluntary member garages all committed to maintaining high servicing and repair standards.

Meanwhile, the IMI's Professional Register is an industry-wide database of highly-skilled and professional individuals, which aids customers in locating the most qualified car technicians, vehicle mechanics and automotive sales experts across the UK.
The partnerships will see the IMI's Professional Register and Motor Codes promoted to AA Garage Guide visitors, arming customers with the information they need in order to be more confident in their vehicle maintenance decisions.
Bill Fennell, MD of Motor Codes, said: 'Uniting with AA Garage Guide helps us to spread our message to consumers, supplying them with all the information they need to make educated decisions concerning the upkeep of their car. This platform also provides an excellent opportunity to promote our subscribed service and repair centres to a potential audience of several million car owners.'
The IMI's CEO, Steve Nash, added: 'Attracting, retaining and developing skilled technicians is absolutely fundamental, not only to help individual businesses succeed in the competitive online marketplace, but also to drive up standards and levels of expertise within the wider marketplace.

'We believe AA Garage Guide can play an important role in helping us to raise the profile of those businesses that are proud of their local reputation and have made genuine investment in delivering high standards of service through the hands of highly-skilled operators.'
Lucy Burnford, co-founder of AA Garage Guide, commented: 'We anticipate that the partnership will help to underpin the mutual goals of each company and promote the shared vision of ensuring that motorists are directed to garages which unfailingly deliver high-quality and professional service, providing the best experience both during and after their interaction with the garage.'
MORE: VW US chief resigns from German manufacturer by 'mutual agreement'
MORE: Vertu Motors celebrates record results following latest acquisitions
MORE: CDX: SMMT chief executive Mike Hawes joins line-up of speakers
On SuperUnleaded.com: This Electric Corvette Shows That The Future Is Bright