THE hills are alive with the sound of . . . Bangers4Ben!
Well, they certainly will be in October when our annual rally in aid of the automotive charity is held.
2017 marks the ninth year that we've organised this fun event and we've gone all out to make it a truly spectacular occasion. We've already had lots of people asking about it but we haven't been able to say anything before now. However, we reckon you'll agree that it's definitely been worth the wait because, ladies and gentlemen, we're delighted to announce that the theme for this year's fundraiser is – drum roll, please – The Alpine Special and you'll be able to sign up for it at CDX17 on May 23.

For those who don't know what Bangers4Ben is – and just where have you been, hmmm? – it's a fantastic opportunity for you to have fun while raising money for a very worthy cause. Your mission – should you choose to accept it – is to drive a car to the Swiss Alps and back. Sounds quite straightforward when put like that, but the journey will be filled with adventure and fun, because your car can't cost you more than £750 and you'll have "prettied" it up to make sure that it stands out – the main image from a previous B4B gives you some idea of the craziness involved!
Of course, there's no guarantee that a car costing less than £750 will last the journey, but that's all part of the fun challenge. However, you won't have to worry about ending up stranded in the middle of nowhere, because our good friends at the AA will be providing full support every mile of the way.
Last year's B4B raised a record-breaking £56,448 to help not-for-profit organisation Ben, which partners with the automotive industry to provide life-changing support for its people and their families, and we're looking to you to help smash that amount.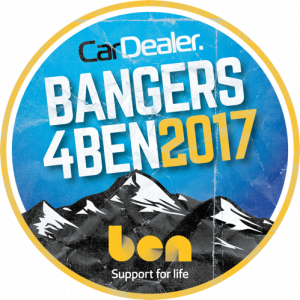 Andy Entwistle, managing director at B4B organiser Blackball Media, which also publishes Car Dealer Magazine, said: 'Every year it gets more and more challenging to improve on the previous event, but following one of the most successful days from 2016's Ferrari frolics, we firmly believe that we've done just that.'

That's because over the course of four days from October 7 to 10, we'll be covering some 1,400 miles as we head down through France to the Swiss Alps and back. And during that epic journey you'll have the chance to drive along not one, not two, not three, but FOUR – count 'em! – of the best driving roads in Europe, if not the world.
Trust us – this is a challenge like no other and one that takes in the best elements from previous B4Bs. En route, you'll be putting your banger through its paces along the Furka Pass, the San Bernardino Pass, the Klausen Pass and the world-famous Stelvio Pass.
Previous B4Bs have separately taken in the Furka (ask anyone from last year's rally how amazing that was!) and Stelvio (which needs no introduction), but this time we'll be making Switzerland's Alps the destination, with challenging roads and amazing mountain passes the feature.
However, we're not stopping there. Oh no! Because for 2017, we're introducing a few surprises along the way, all aimed at creating a team spirit, plus we'll be arranging restaurant meets so that after taking in the days' drives, team members will meet up, recharge and share their experiences before heading off in convoy for the next pass. We'll also be holding a treasure hunt along the way. Yup, Bangers4Ben 2017 – or #B4B17 – really will be all about the driving and camaraderie.
As always, places will be available to book exclusively at CDX, which this year is being held at Silverstone on May 23. They're limited to just 50 on a first-come, first-served basis. And the good news is we've managed to hold the costs at previous levels, with the entrance fee being £500 (plus VAT), which covers your ferry travel, hotel room (for two people), evening meals and breakfasts! Then all you need to do is find yourself a sub-£750 banger and dress it up how you like – preferably with an alpine bias and, of course, keeping it road-legal.
Once the bangers are back in Blighty, they'll be auctioned off to raise even more money for Ben.
The #B4B17 itinerary
Day 1 380 miles 6hr 26min Calais to Colmar
Day 2 299 miles 6hr 41min The Furka Pass and San Bernardino Pass to Davos
Day 3 277 miles 5hr 25min Davos to the Klausen Pass and Stelvio
Day 4 429 miles 6hr 23min Colmar to Calais
It's going to be all kinds of alpine amazing! So, what are you waiting for? Make sure you join us on this thrill-tastic adventure in aid of Ben.
SIGN UP FOR YOUR FREE CDX17 TICKETS HERE AND YOUR CHANCE TO BE PART OF B4B17
MORE: Bangers4Ben 2016 winners revealed
MORE: #B4B16 day four's top tweets
MORE: #B4B16 day three's top tweets
MORE: #B4B16 day two's top tweets
MORE: #B4B16 day one's top tweets
On SuperUnleaded.com: The Best Of The Best Of The 75th Goodwood Members' Meeting